micro/MACRO is a traveling intercollegiate jewelry + metals exhibition highlighting student and faculty work from ten academic institutions in and around the Midwest.

While initially scheduled to exhibit in the Student Exhibition Center at Missouri State University, as we do our part to keep the Missouri State campus and Springfield community safe and healthy, micro/MACRO has been adapted to exhibit virtually.

We want to thank all of the exhibiting institutions for being enthusiastic and willing to exhibit micro/MACRO virtually: Ball State University, Bowling Green State University, Earlham College, Indiana University, Indiana University of Pennsylvania, Kent State University, Missouri State University, University of Illinois at Urbana-Champaign, University of Wisconsin-Milwaukee, and University of Wisconsin-Stout.

The Student Exhibition Center is delighted to present, micro/MACRO.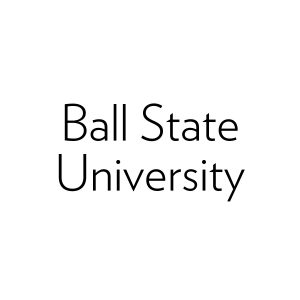 Jessica Craig
BFA Candidate

Floral Dish, Pt. 1, 2019
Bullseye glass, bullseye frit, pattern bar, color line enamel

Floral Wearable, Pt. 2, 2019
Bullseye glass, bullseye frit, pattern bar, color line enamel, sterling silver wire

Floral Dish, Pt. 1 and Floral Wearable, Pt.2 are pieces related by material and design but not by function. The dish serves as the body, or the MACRO, while the wearable is the leftover parts, the micro, altered and used to create a very different piece.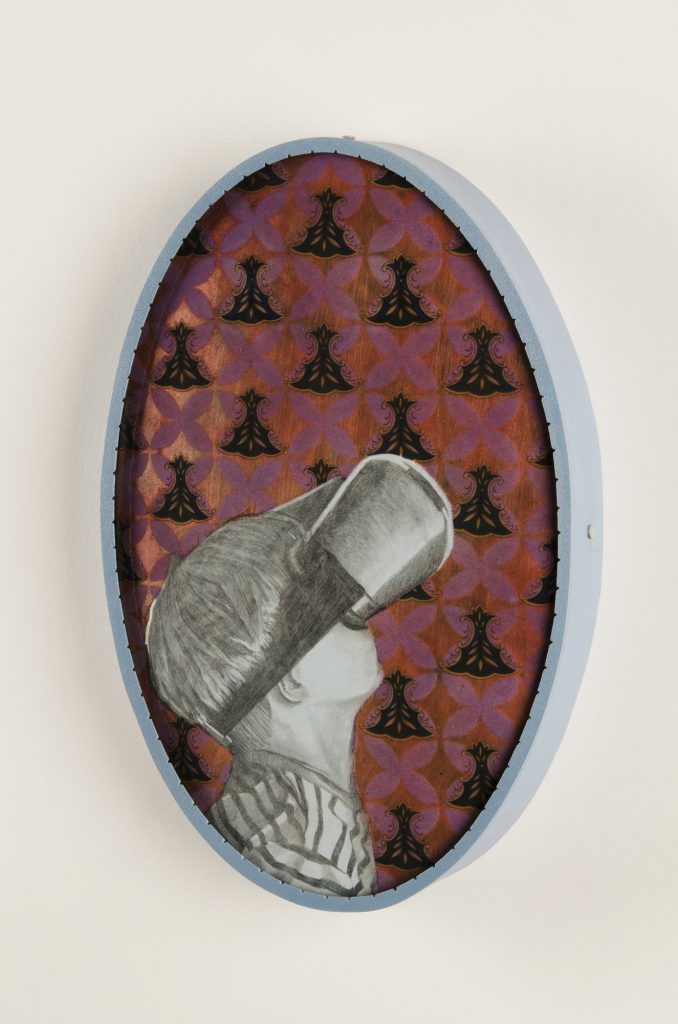 Jessica Calderwood
Faculty

Reality, 2019
Enamel, copper, brass, powder-coating

Electronic media has also become our space both to offer comfort and negate our immediate surroundings. It is our device to both escape and connect. Working within this dualism, this series of wall works attempt to create that micro of the electronic space and the macro of the physical space.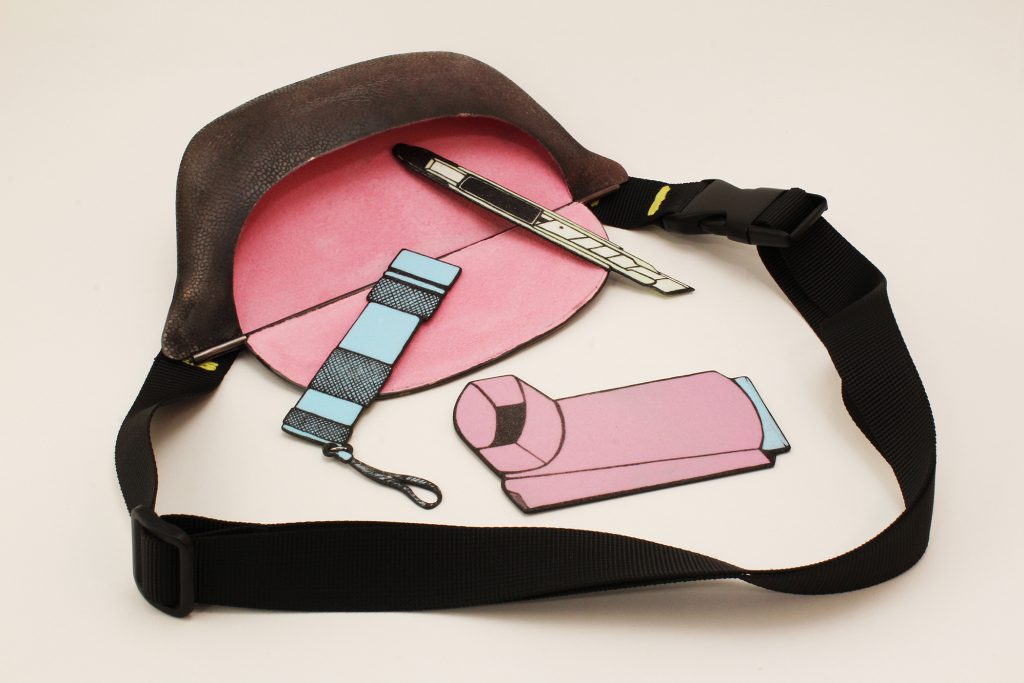 Emily Pellini
MFA Candidate

Fanny Pack: A Shelter for Sanctuary, Safety, & Serenity, 2019
Copper, brass, vitreous enamel, China paint, flocking, embroidery floss, nylon strap, plastic buckles

The Fanny Pack: A Shelter for Sanctuary, Safety, and Serenity is a piece lovingly devoted to my most loyal companion, the humble fanny pack. While I am the bumbling, nervous, wheezing MACRO, my pack is the micro, containing all the solutions to my daily struggles.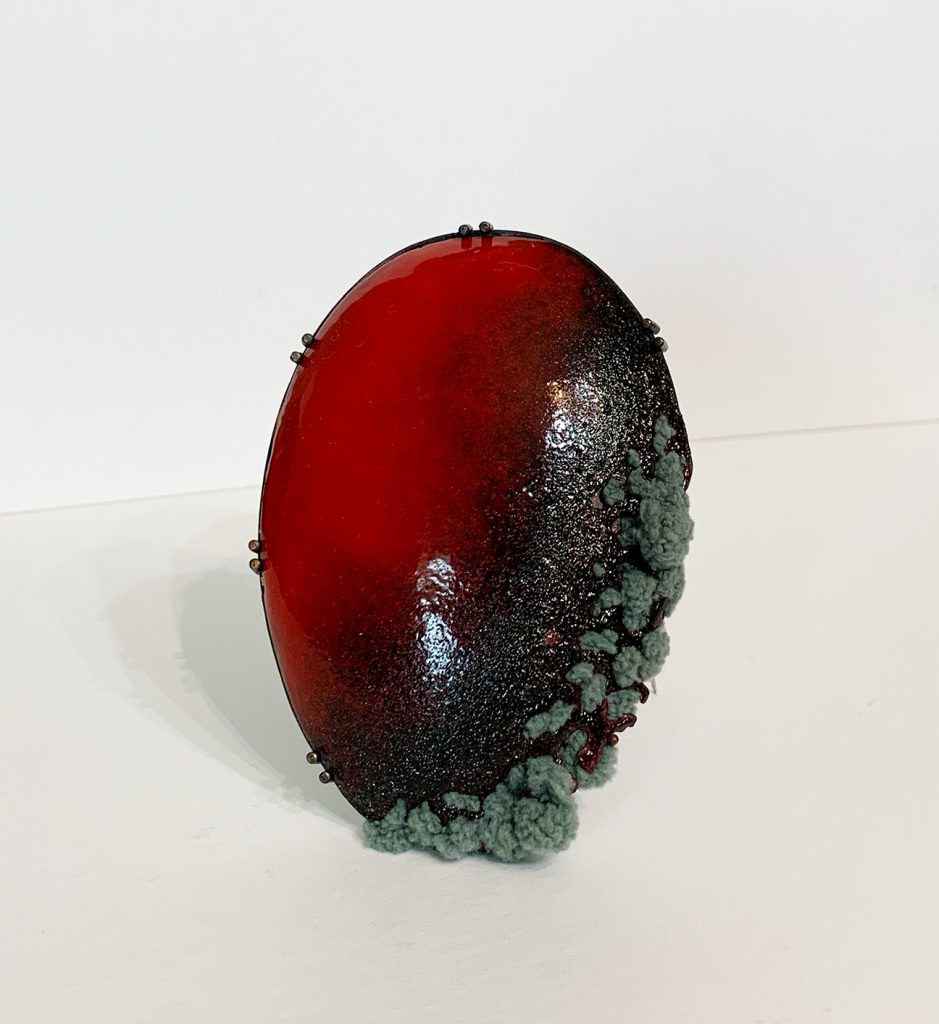 Victoria Hutchinson
MFA Candidate

Rotten, 2019
Copper, enamel, polyester, stainless steel

Rotten depicts the power of microbial growth, which is unseen until it is too late. When you notice the rot, it has already spread throughout the fruit like a cancer and cannot be cut out.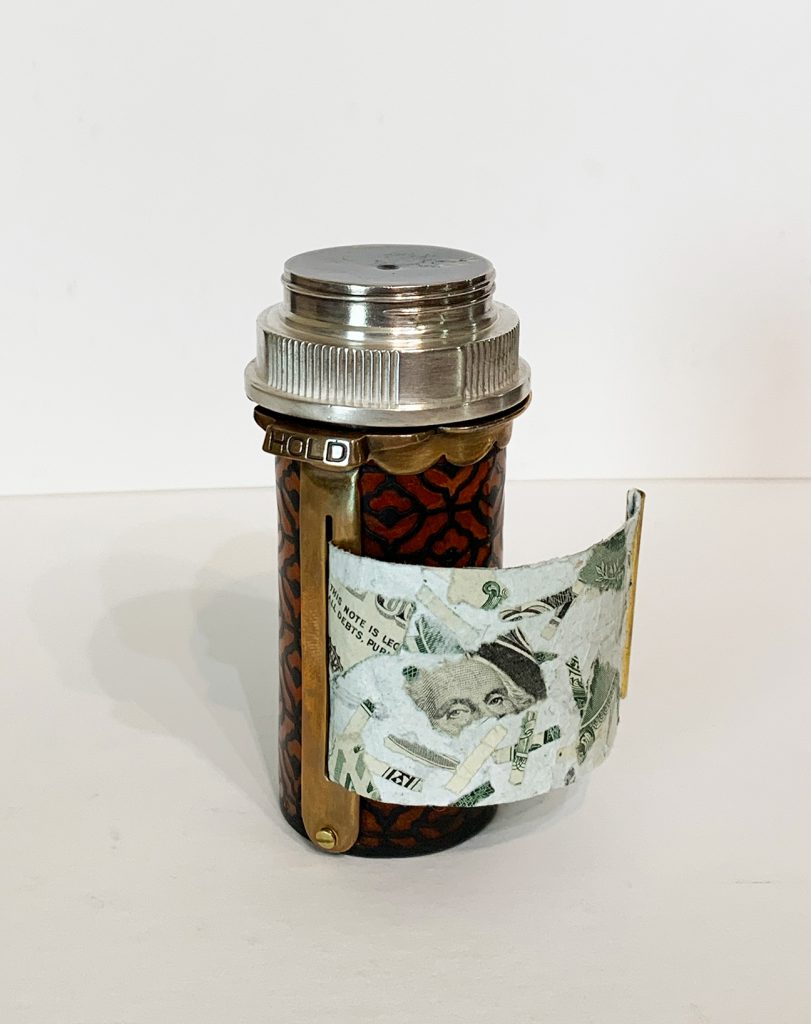 Natalie Lowe
MFA Candidate

Oxy-Rotten: Relief at a Cost, 2019
Copper, vitreous enamel, bronze, silver, steel ball bearings, handmade paper, American currency

This work was inspired by the rampant greed and indifference within the pharmaceutical industry. More specifically, it was the practices of Richard Sackler and Purdue Pharma's aggressive marketing of OxyContin that encouraged the creation of OxyRotten: Relief at a Cost. In order to demonstrate this larger issue, the form of a pill bottle and lid serve as a vessel for a scroll of paper made from American currency.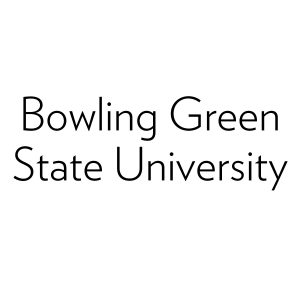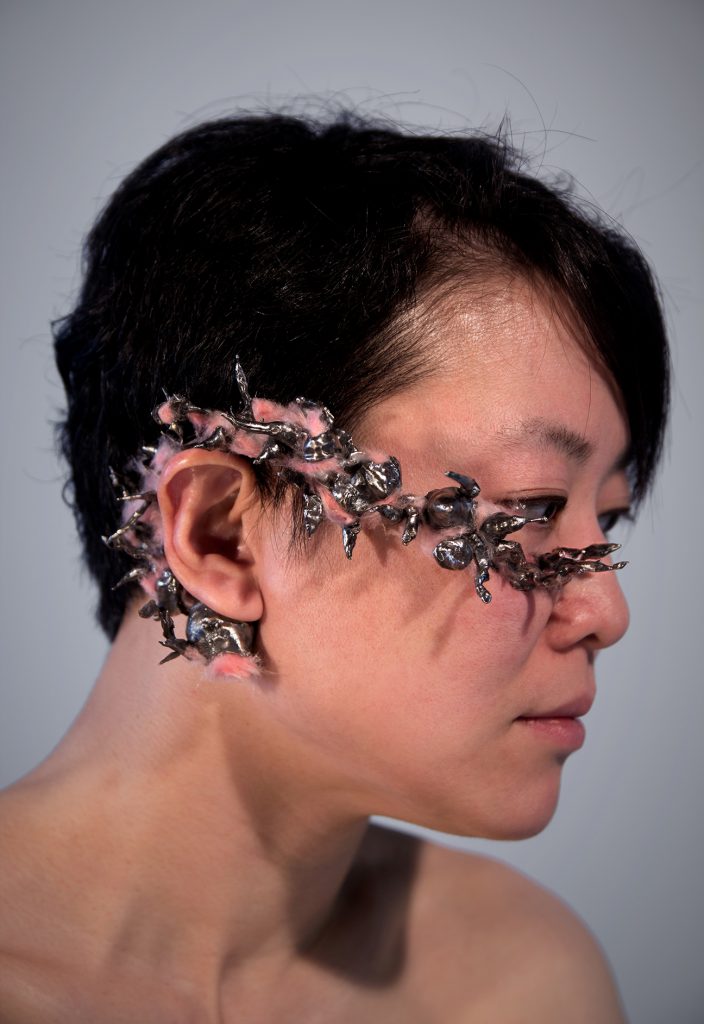 Isabel Zeng
MFA Candidate

Gazed Gazes (object of artwork), 2019
Sterling silver, fiberglass (pink)

Gazed Gazes is a wearable object which connects the ear and eye of the wearer. It can be seen as a body extension, in particular, a visual form of the body's inner reaction in response to external factors, such as male gaze.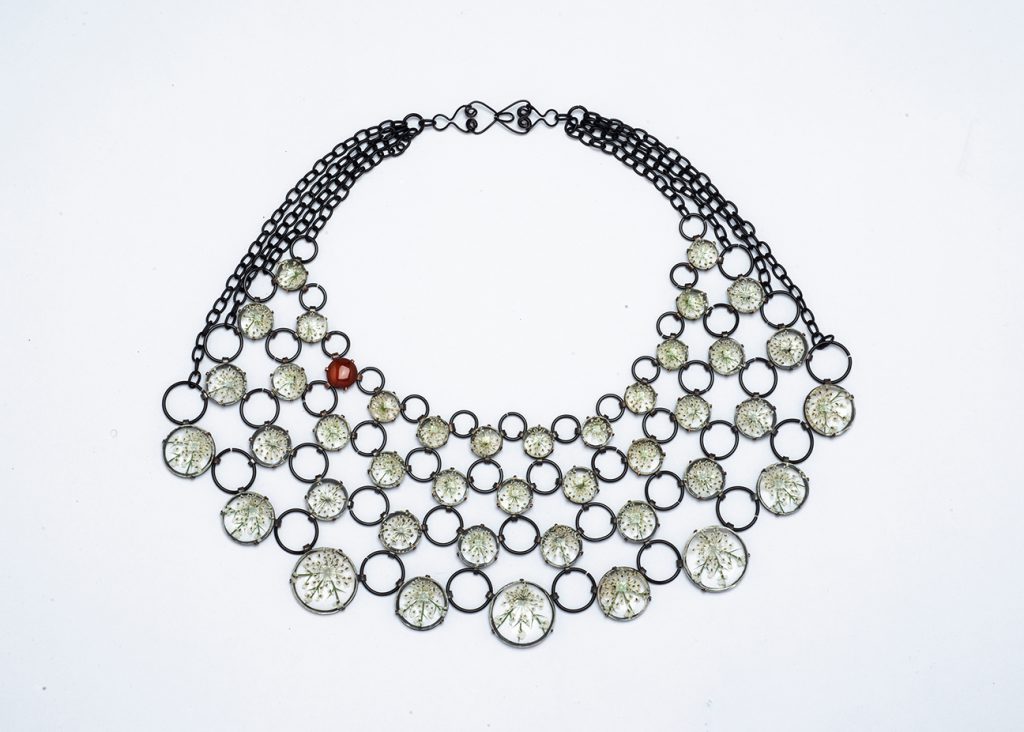 Stephanie Robbins
BFA Candidate

Statement Necklace, 2019
Copper, aluminum, glass, dried flowers, UV resin, red agate

The Statement Neckpiece plays with scale, negative space, and expectations of the viewer with regard to the stone-setting format. With one exception, the prong set cabochons are living creatures – plants – through which the wearer's body appears in negative space, becoming part of the ornament. The macrocosm of life is invoked in the diminishing circles of the microcosm of the set jewels.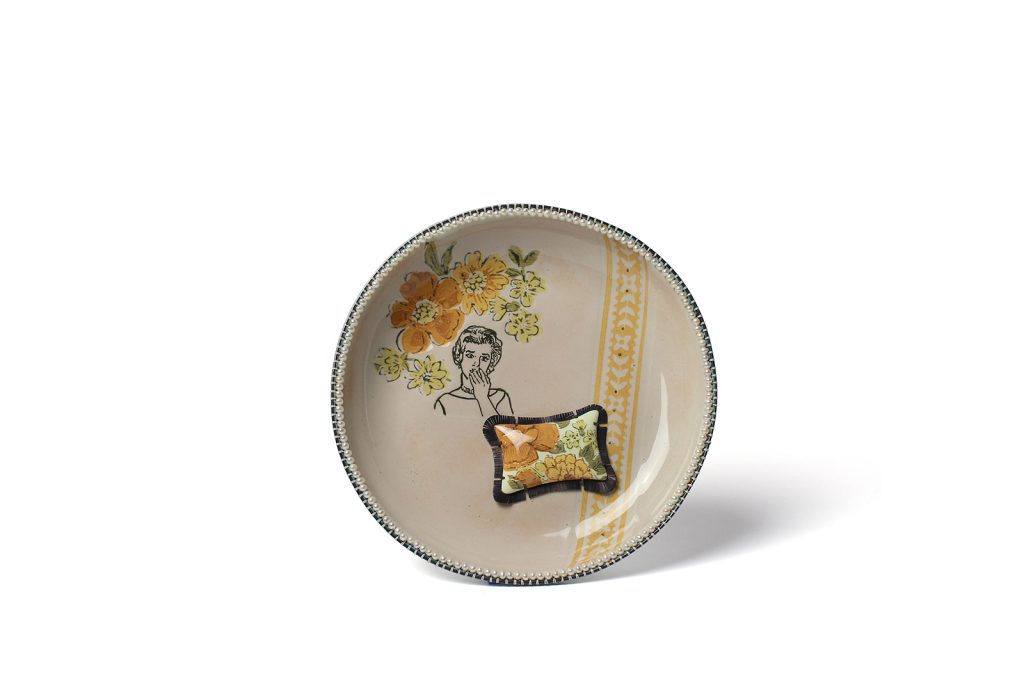 Marissa Saneholtz
Faculty

Her point had been made, but had it been worth the cost?, 2019
Copper, vitreous enamel, silk, pearls, sterling silver

Current politics and the dawning realization that ignorance is prevalent in our country has caused me to view people from our country in a new light. This body of work is a reflection of some of the shame that I am currently feeling at my inability and lack of effort to create change for the better. As an individual, it is difficult to determine what actions can be taken that can help to move our society in the right direction while still taking care of our own personal lives and relationships.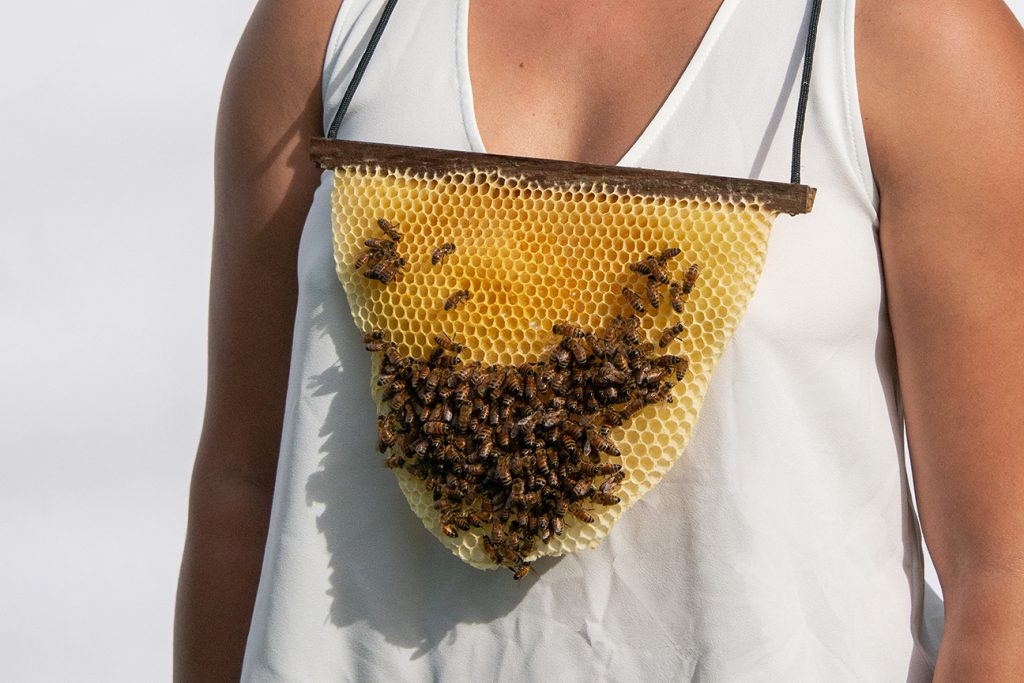 Tom Muir
Faculty

Beekeeper's Neckpiece, 2019
Walnut, drawn beeswax, comb, cord, brass

The Beekeeper's Neckpiece is a jewelry counterpart to Richard Avedon's provocative "Beekeeper" photograph. Like Avedon's image, the neckpiece suggests both the danger of wearing live bees, and the fascination with being physically close to them, even serving as a living structure for their activities. In both images, part of the fascination stems from the constantly changing arrangement of the bees; in the neckpiece, which is the natural shape of drawn comb inside a beehive, the bees behave as they would in the hive. The neckpiece is both a microcosm of the superorganism that is the beehive – and, when worn with due care and respect, a microcosm of the natural order seen from a non-anthropocentric vantage point.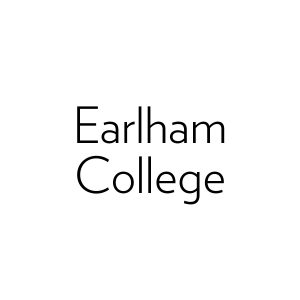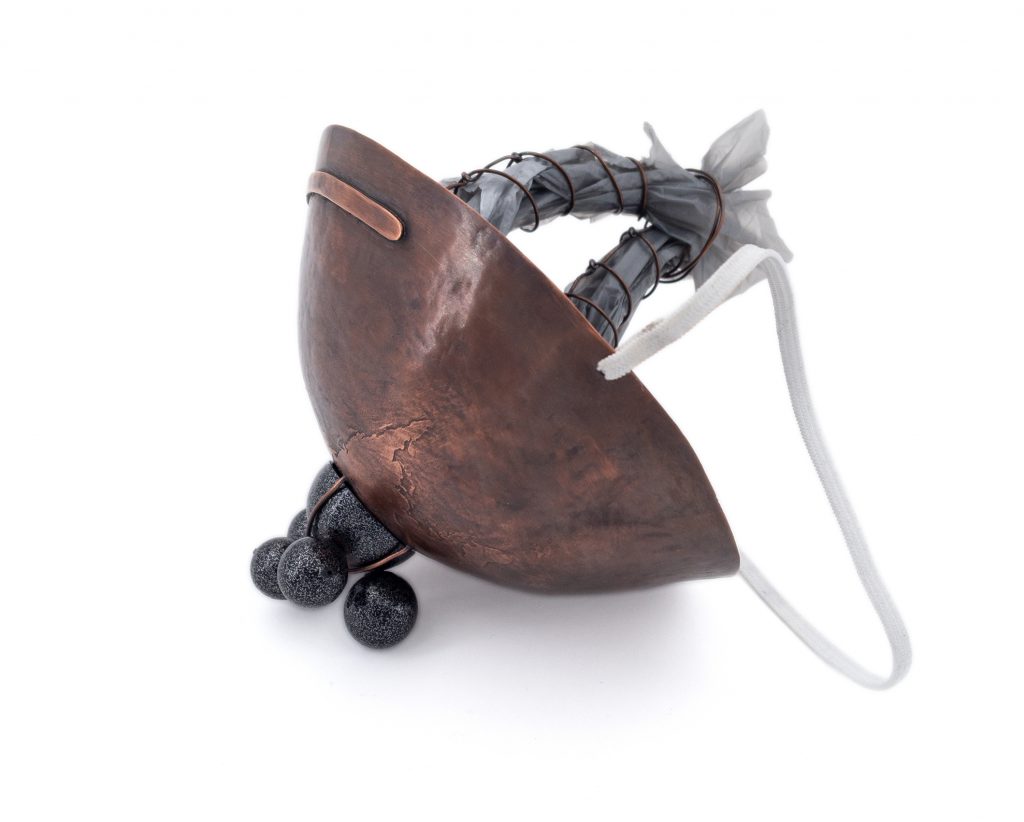 Annika Hermke
BA Candidate

Pollution, 2019
Copper, powder coat, elastic, plastic bag

This project symbolizes the macro effects that minuscule pollution particles have on the world and on our bodies. The dust mask is our only shield for preventing health problems to our own body, but the world is unshielded and more and more pollution particles will cover the globe.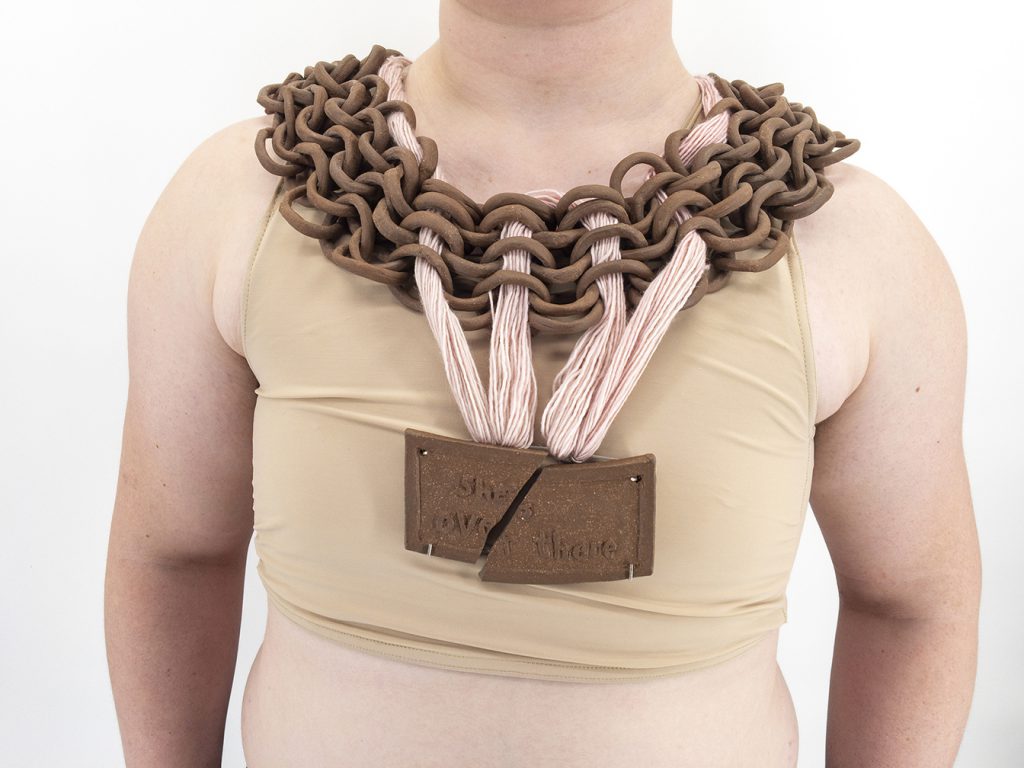 Brookes Jarvi-Beamer
BA Candidate

She's Over There, 2019
Clay, sterling silver, wood

This necklace was made as a physical representation of pronoun dysphoria. "She's over there" is carved into clay around the wearer's neck. As the heavy chains weigh the wearer down as they go about their day, the constructs that society asks us to abide by, also weigh the wearer down. Cracked, the sentence loses its meaning and significance after it is said, but the wearer still must carry it with them.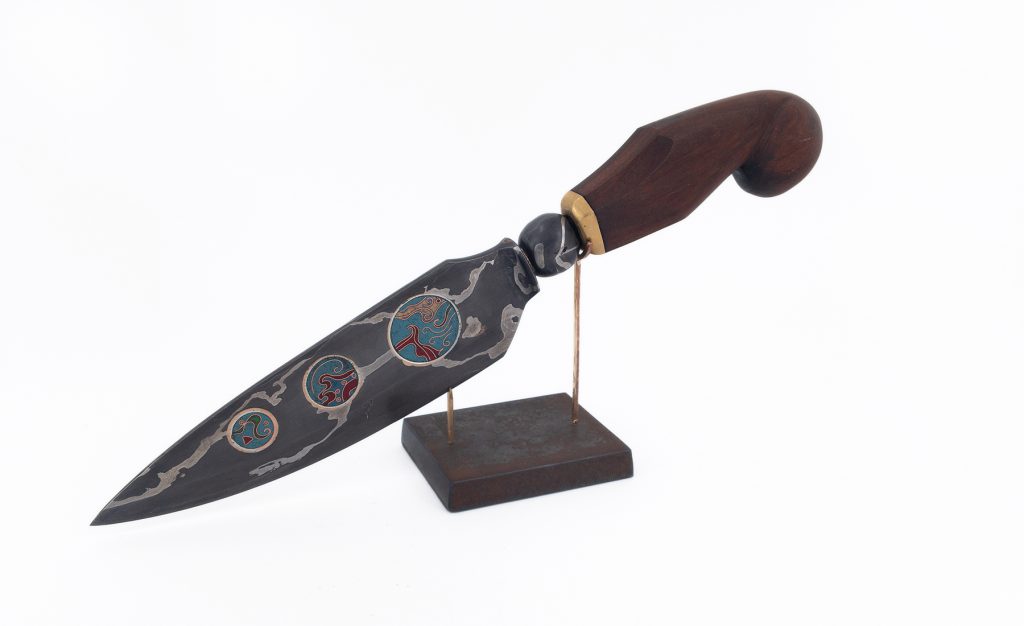 Max Meier
BA Candidate

Higher Resolution, 2020
Campo Del Cielo Meteorite, railroad anchor steel, 80crv2 steel, bronze, copper, enamel, brass, Brazillian walnut

While making this piece, I found the blending of the roughness of forging with the precision of cloisonne, and the artistic object with utilitarian one, made me consider the way perception can be changed by the lens you look through. I decided to emphasize this further, by playing with the way that patterns imply continuation beyond their physical bounds. The patterning on the medallions I cut out of the blade, and the ones I filled the voids with don't match in the slightest, yet as a whole it appears to imply a coherent pattern to the eye. My instinct is to say that this was deceptive, but really that depends on the resolution you choose to see it at.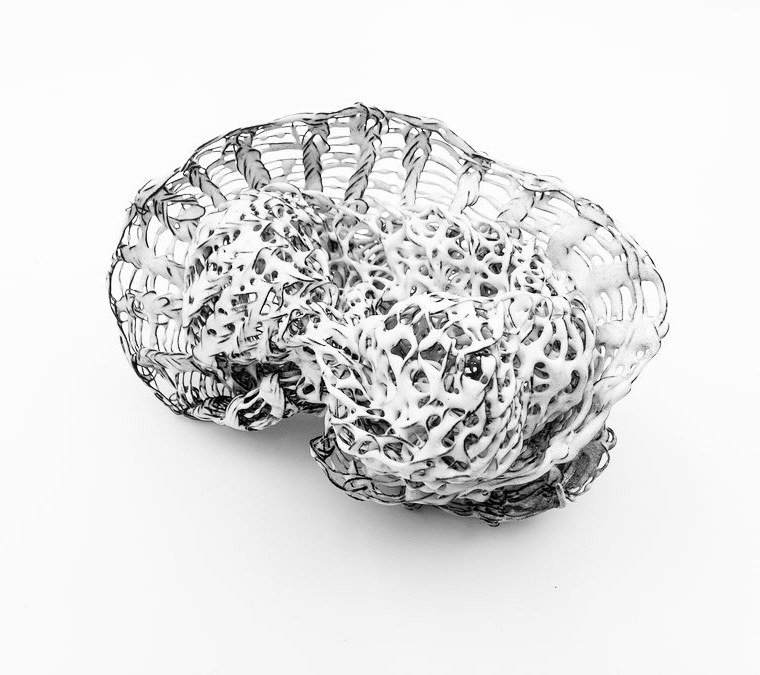 Melis Agabigum
Faculty

When Inspirations Were Far and Few, 2019
Copper, nugold, steel, enamel, powder coat

Loop on loop. Wire against wire. Each compounded motion of my hands surmounts to a larger physical manifestation. When I lack inspiration, I let my hands take over to serendipitously do what they need to do, to bring me back to a place of discovery.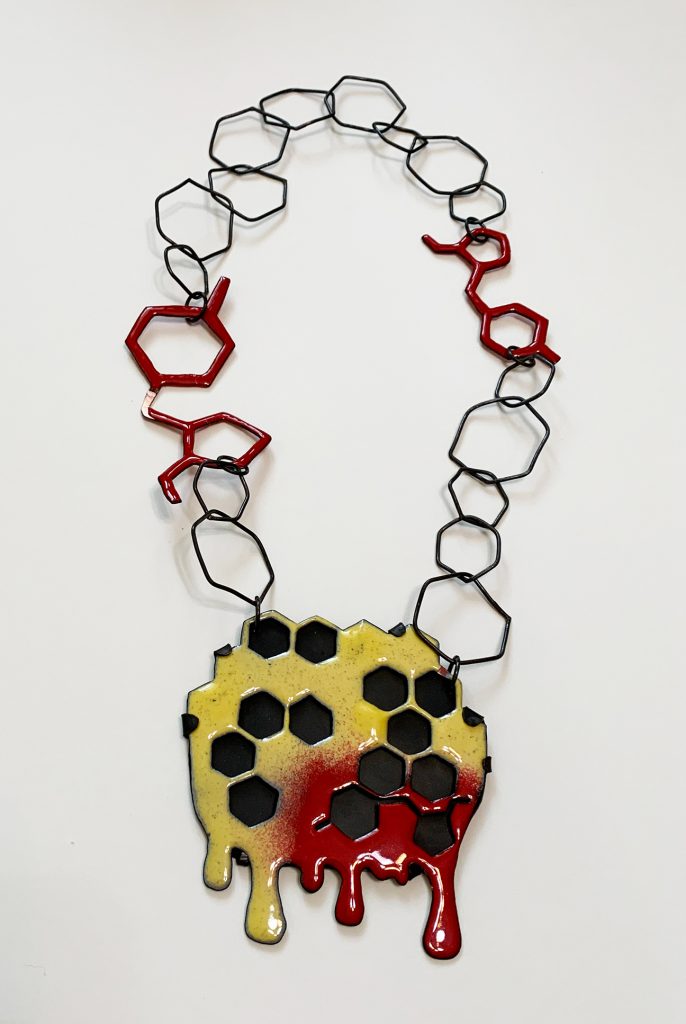 Kinsey Emerson
BA Candidate

If they die, we die, 2019
Copper, enamel, patina

This necklace is based on how neonicotinoid pesticides are killing bees. The molecular structure used is that of a substance called "imidacloprid" which is one of those pesticides. The honey of the bees turns to blood as the death of them will cause the death of us.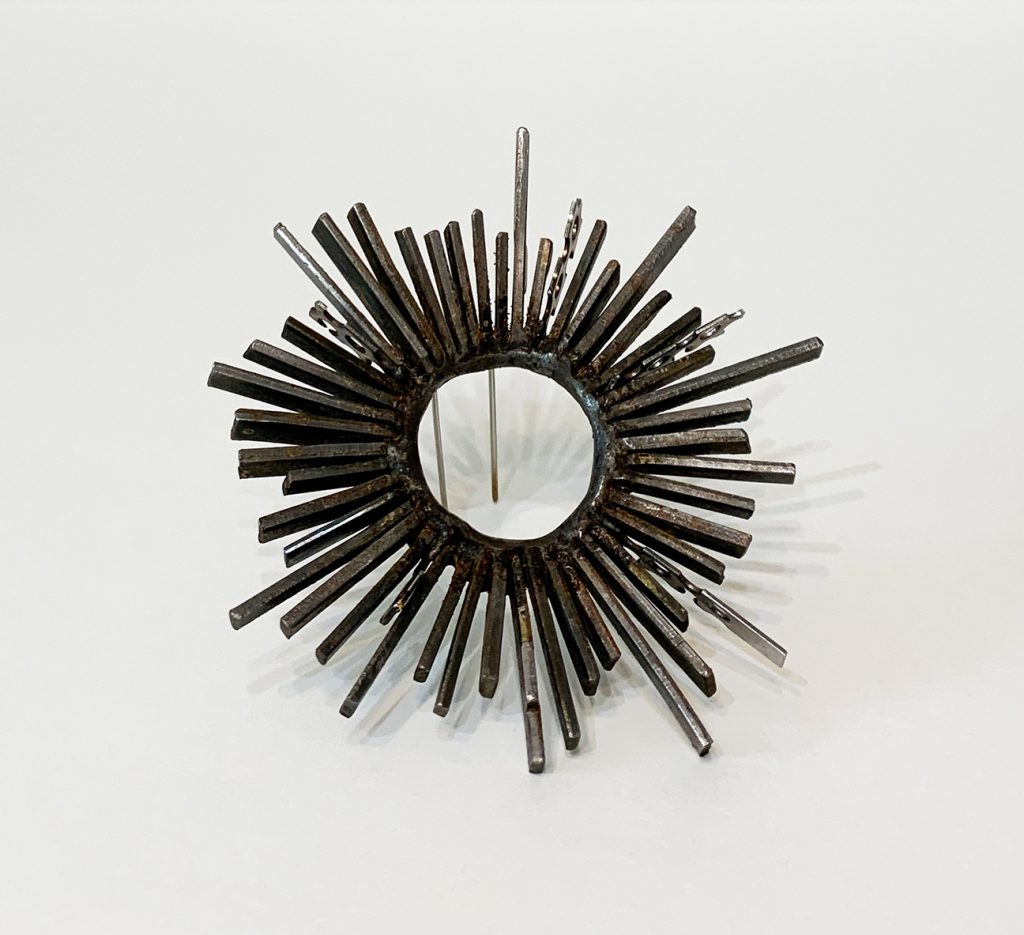 Charley Drew-Wolak
BA Candidate

Ajna, 2019
Steel, silver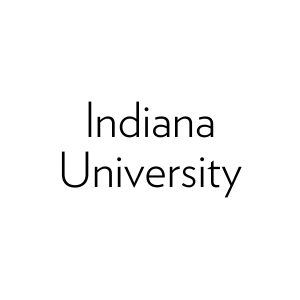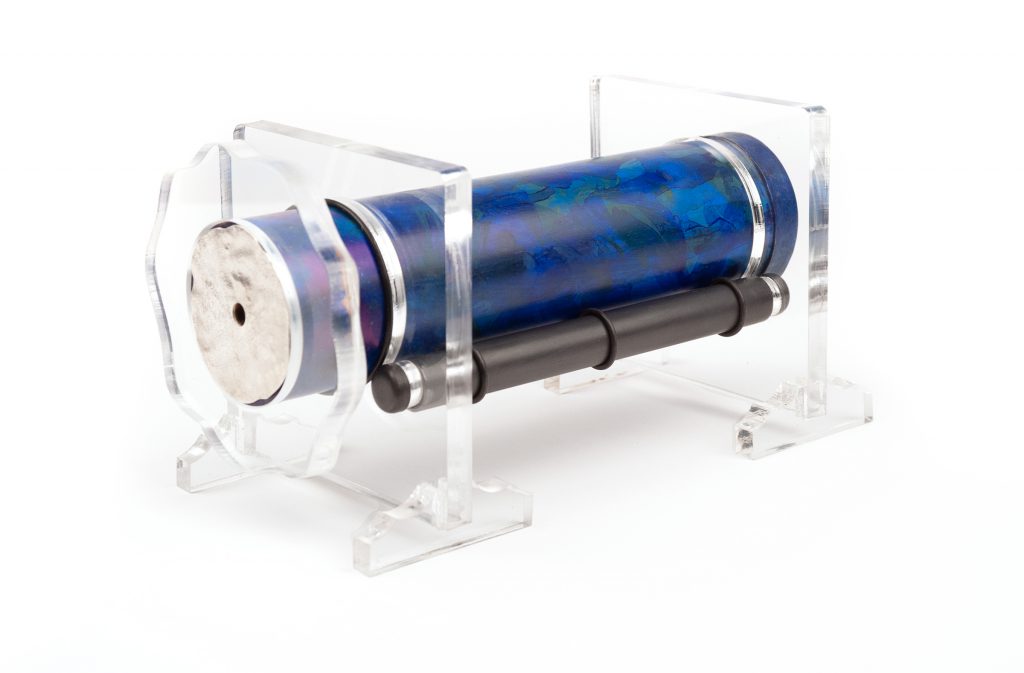 Lauren Darrouzet
MFA Candidate

Reflections, 2020
Copper, sterling silver, acrylic, mirror, glass, vintage Swarovski beads

The image inside a kaleidoscope will never once be the same. It is a glimpse inside an intimate space where the viewer alone will have an experience no one else ever will. The objects inside will never completely be revealed. This complex action of seeing without fully understanding allows for a brief encounter with the surreal. With this piece I created a space in which these carefully curated objects produce colors and patterns that captivate and inspire me.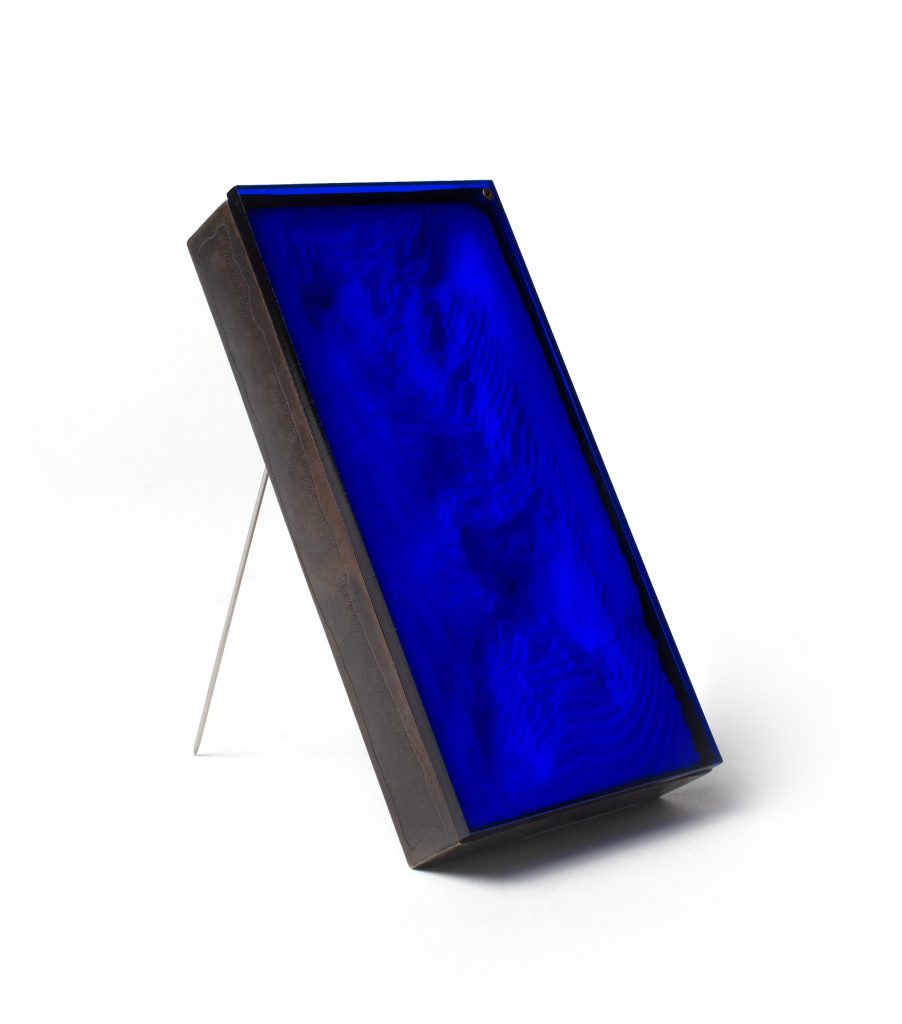 Brandy Scholl
MFA Candidate

Bathymetry in Bone, 2020
Cuttlefish bone, copper, acrylic

This brooch uses cuttlefish bone to build a visual link between microscopic and macroscopic imagery within the same habitat. Specifically, I am fascinated with the cuttlefish anatomy in relationship to its environment. When carved, the unique layers of the soft cuttlefish bone closely resemble contour line maps of the ocean floor. In essence, the structural formation of the bone is mirroring the larger oceanic environment it lives in.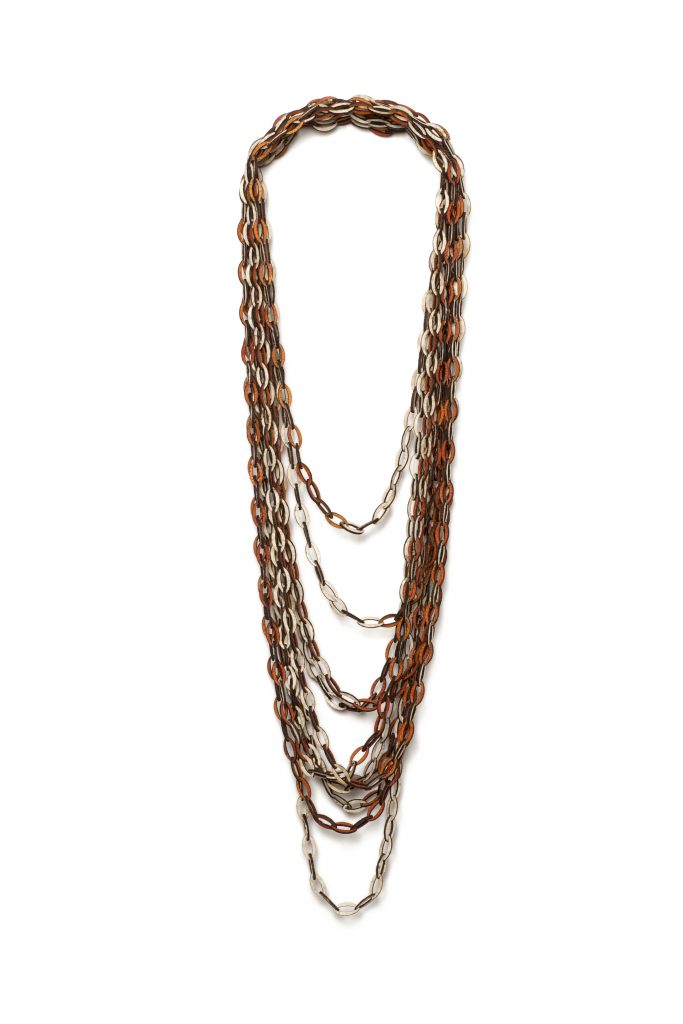 Joshua Kosker
Faculty

in/fractions, 2020
Laser cut tangelo peel

Link by brittle link, this necklace is composed of over forty-five feet of dried and laser cut citrus peel. Contrary to the sum of its parts, the vulnerability of the chain is magnified through each additional connection. Due to the fragile nature of the rind, the material takes on a precarious function as jewelry; something that is typically thought of as permanent and unwavering.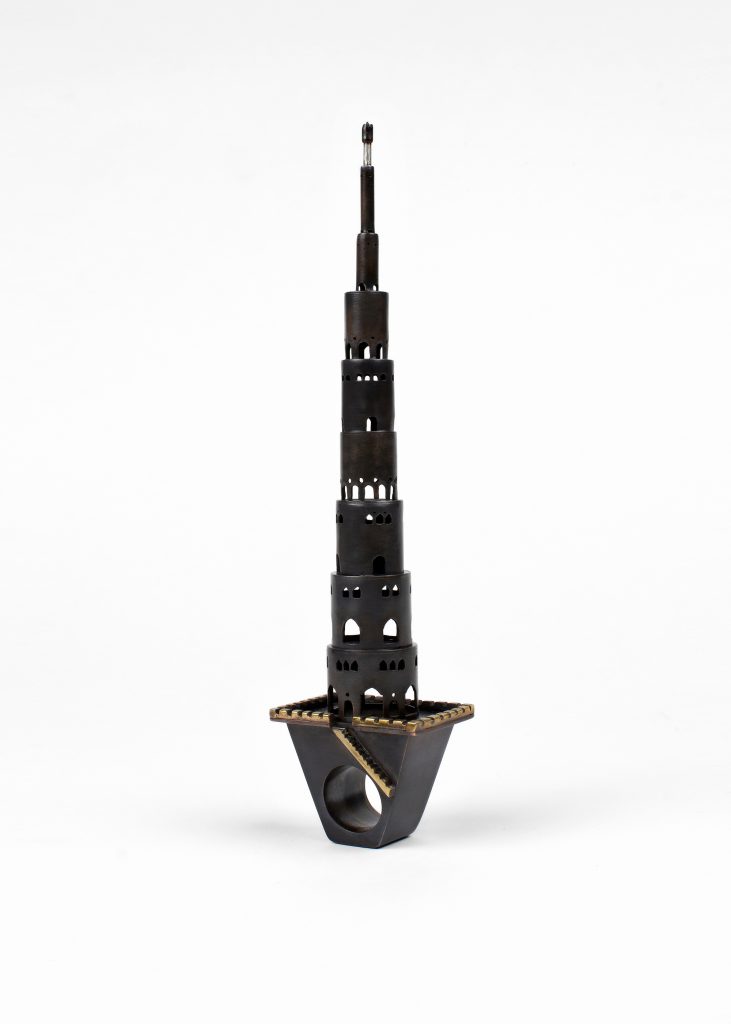 Aaron Sizemore
BFA Candidate

Babylon, 2020
Copper, brass, steel shot

In Babylon an unfinished tower reaches towards the high heavens and Nimrod is pleased. An act of architectural and religious defiance, with confidence in man's strength above the gods. Many hands, many years, many bloody sacrifices. An ambitious project on an infinite time scale. A goal that can never be reached, but is sought after nonetheless. Pushing civilization through and beyond its limits, for a feat rich in pride and challenge. Their hands are your hands. Carry with you this thought, this memory, this past life, and the recognition of the might and formidable force inherent in your digits.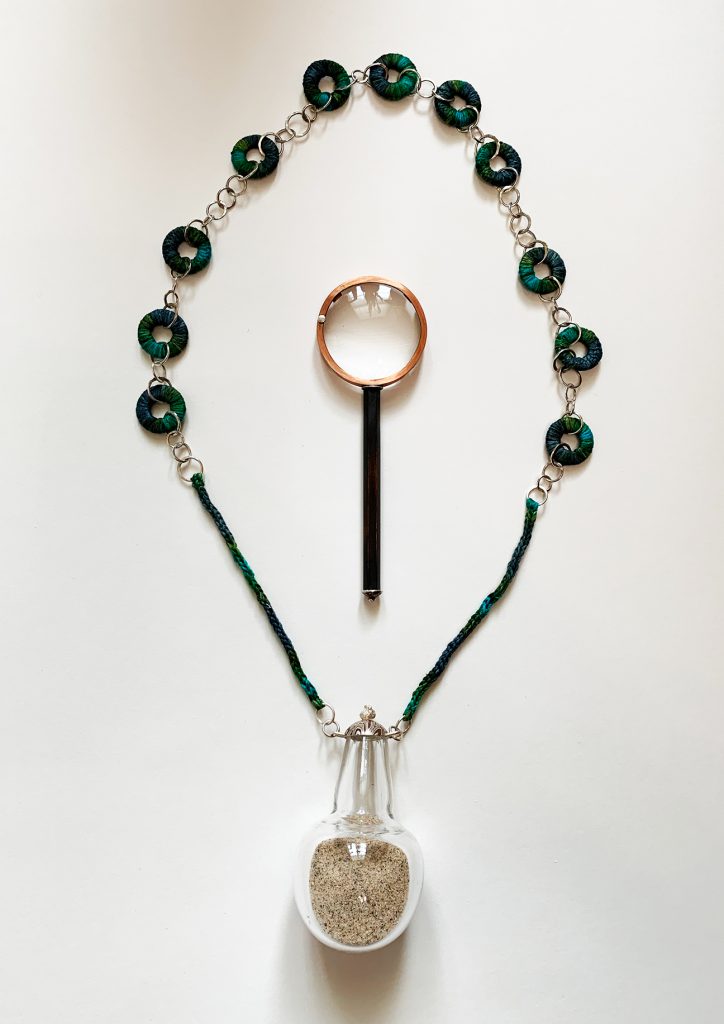 Angela Caldwell
MFA Candidate

To See a World, 2020
Sterling, copper, silk, handmade glass vile, Lake Michigan sand

References to a grain of sand can be found in poetry, song lyrics, literature, and famous quotes. Growing up on Lake Michigan, I know too well the variety of feelings associated with one. From the annoying scratch between my skin and wet bathing suit, a spec in my eye and the grit felt while biting into a white bread and bologna sandwich: these minute crystalline structures can feel like large rocks and brillo pads. While a single grain can feel enormous, collectively, billions of individual sand particles form the mountainous dunes sweeping the shores of Lake Michigan and are the very particles that make up this handmade glass vile. That something so small can inspire such strong emotions and significance is a testament to the concept that small things can have a large impact.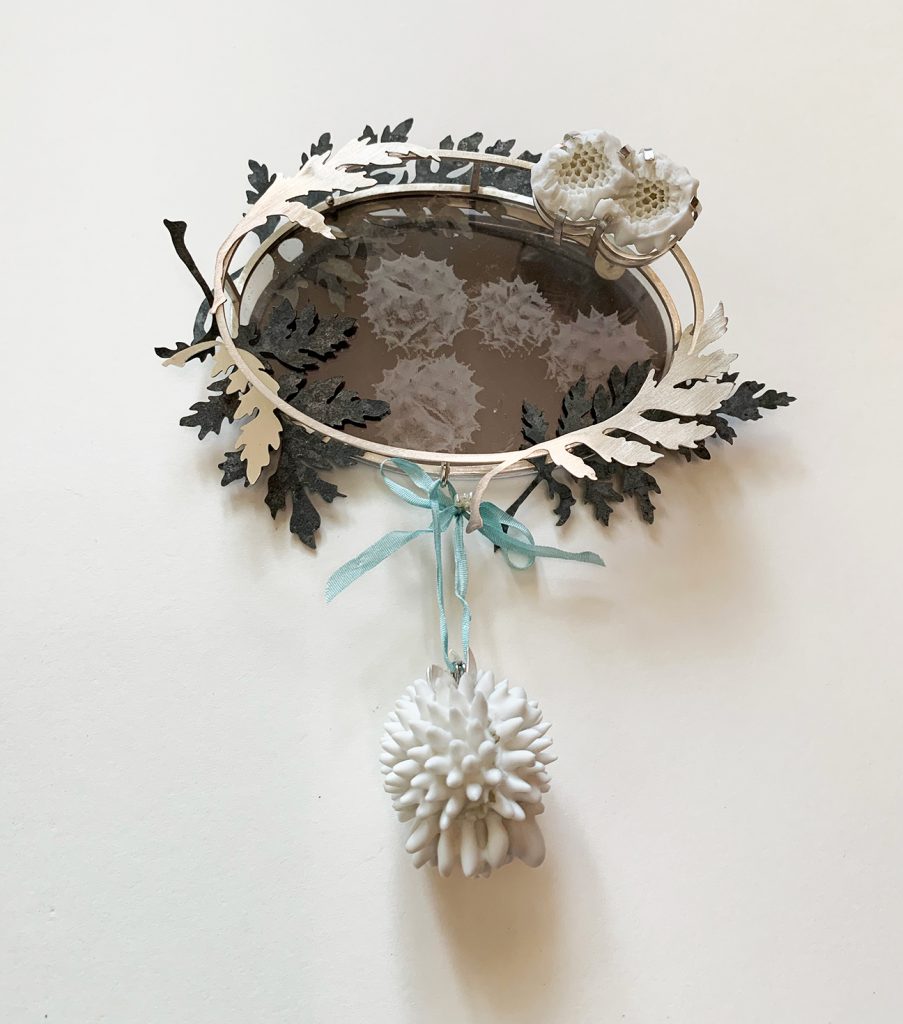 Nicole Jacquard
Faculty

Airborne, 2020
Silver, galvanized steel, laser engraved mica, porcelain, silk, pearl, stainless steel

Whether it's man-made or natural, it's in every breath we take.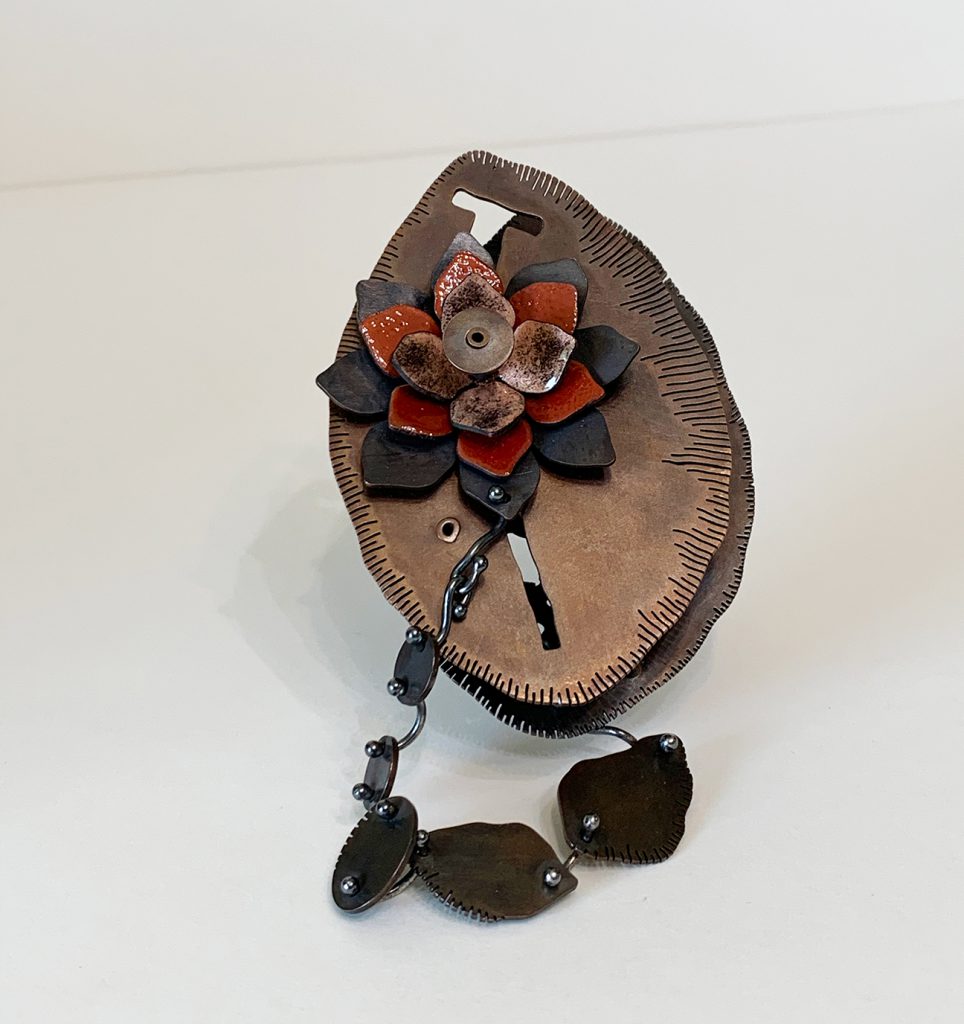 Yingqi Puffy Zhao
MFA Candidate

baby, Mom, 2020
Copper, sterling silver, fine silver, vitreous enamel, stainless steel

This brooch is inspired by the microscopic imagery related to human muscle cell, which is my visual metaphor for lotus seed pod. The lotus petals component that bears a keyway is worn on the body, with a chain connected to both the lotus petal and the lotus flower that bears a key. This brooch describes my mother-daughter relationship from my mother's perspective.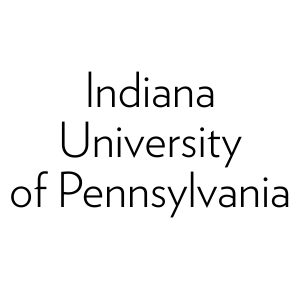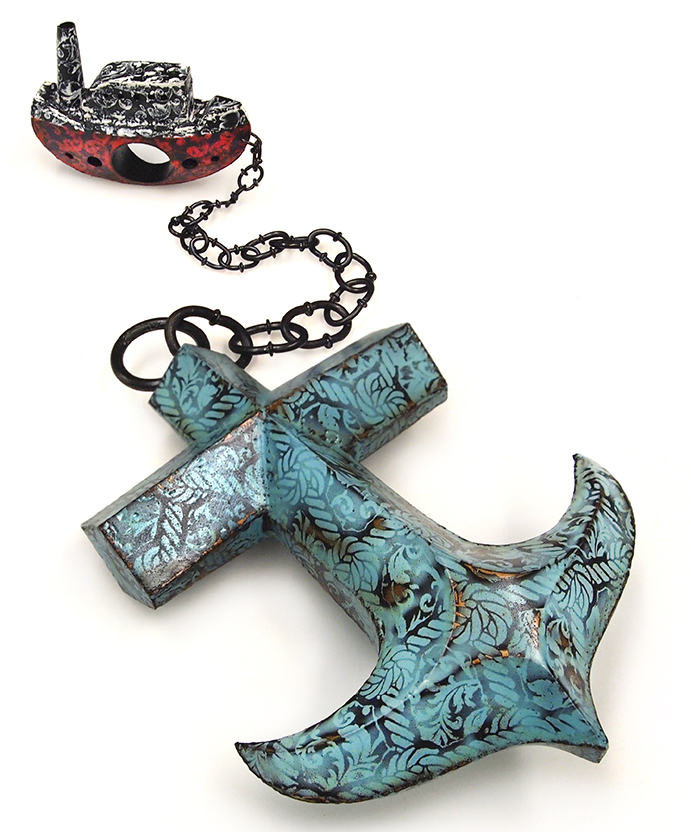 Sharon Massey
Faculty

Adrift, 2019
Champlevé enamel on steel

Adrift is a theatrical, narrative ring with oversize elements. The anchor is a symbol often found in traditional jewelry to symbolize hope. In my contemporary interpretation, the anchor hangs from a ring in the shape of a ship. As this jewelry is worn, the wearer becomes a navigator, dragging an anchor from their body as they move. The anchor may still symbolize hope, as it weighs on the wearer and influences their movements. The short length of chain ensures that the wearer remains adrift, rather than becoming anchored.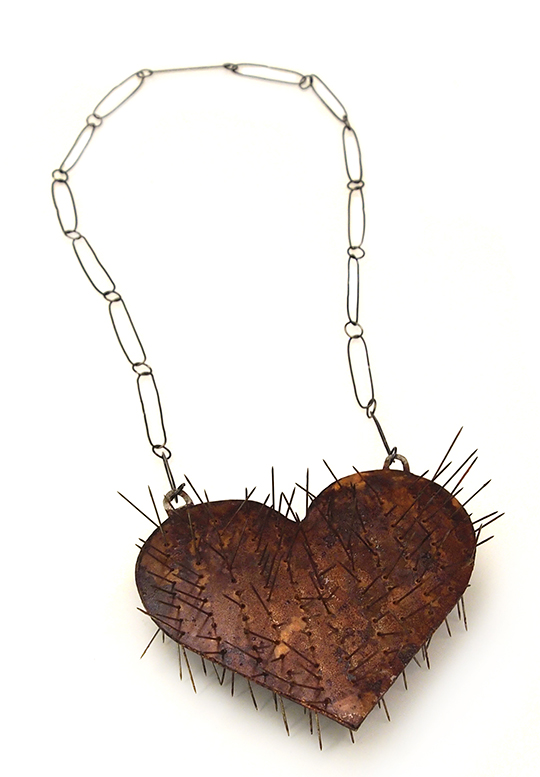 Kelly Hoover
BA Candidate

Macro Aggressions, 2019
Steel

My intention with Macro Aggressions was to show how over time things that seem insignificant or small can accumulate and damage, eventually leading to heartbreak. I used steel so that I can show the decay and damage that relationships can cause.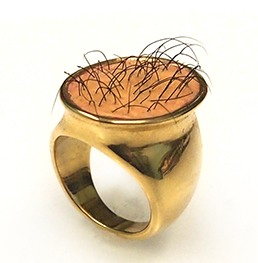 Sarah Stewart
MA Candidate

Pinky Ring, 2019
Vermeil, wax, eyelashes

Pinky Ring explores the big questions of identity, power, and gender dynamics in a small package. This work combines the traditional ornament of royalty, scholars, mobsters, and moguls with materials that reference vanity, artifice, and play. It poses the question of how position is both given and commanded.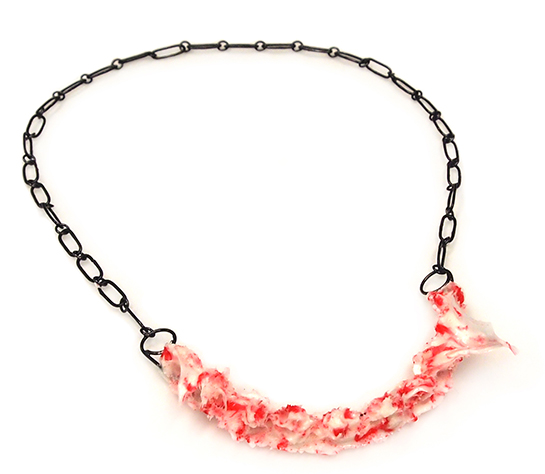 K. West
BFA Candidate

Gnaw, 2019
Candy, copper

I was inspired to make an edible piece as I considered the theme of micro-nutrients. Gnaw is a portable piece that can provide a small amount of nourishment if needed.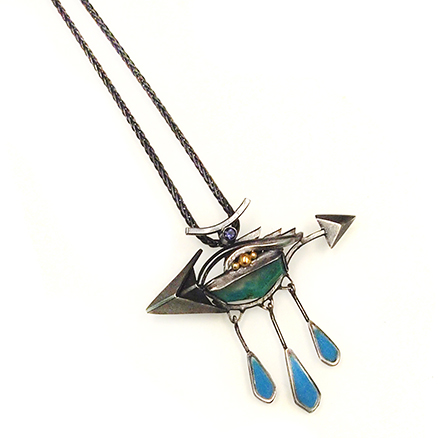 Chase Shotton
Undergraduate

Micro Utpoia, 2019
Silver, iolite, gem silica, 18K gold, enamel

This piece was inspired by graffiti. I have always been fascinated by the scale and colors used in street art. For this project I wanted to make something wearable in a similar style using techniques such as champlevé and granulation.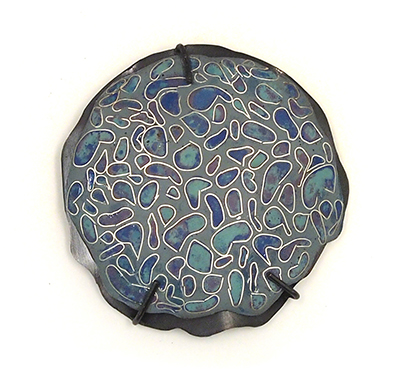 Kassidi Kabler
Undergraduate

Microscopic, 2019
Cloisonné enamel, copper

I was inspired by microscopic images of cells and other biologic matter for my brooch, Microscopic. The cloisonné technique seemed like the perfect technical solution to depict this micro imagery.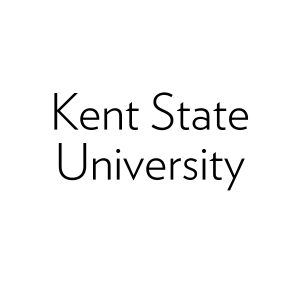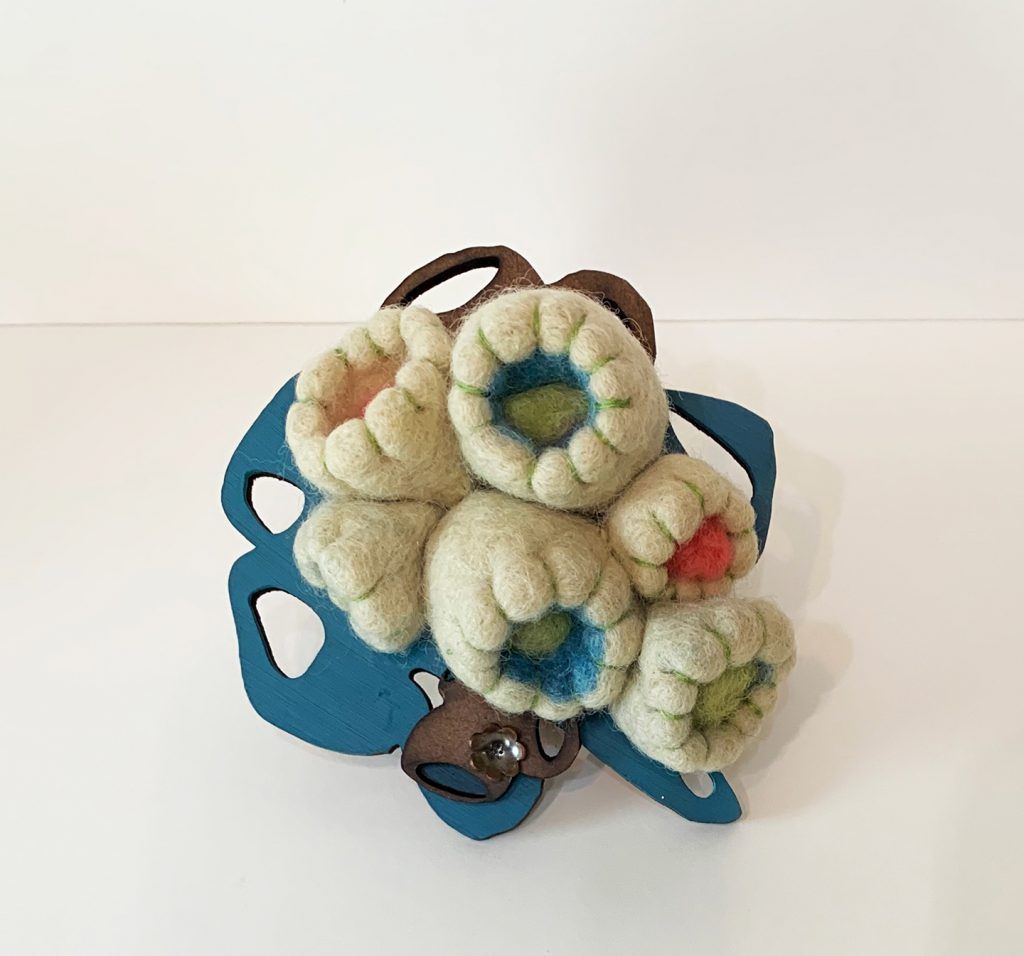 Paige Koenig
MFA Candidate

Natural Growth, 2019
Wood, copper, paint, felt

I make use of biomorphic forms derived from barnacles to explore elements of environment, society and closeness, perceived on a macro or micro scale. The barnacle has been made macro, and the environment Is rendered micro.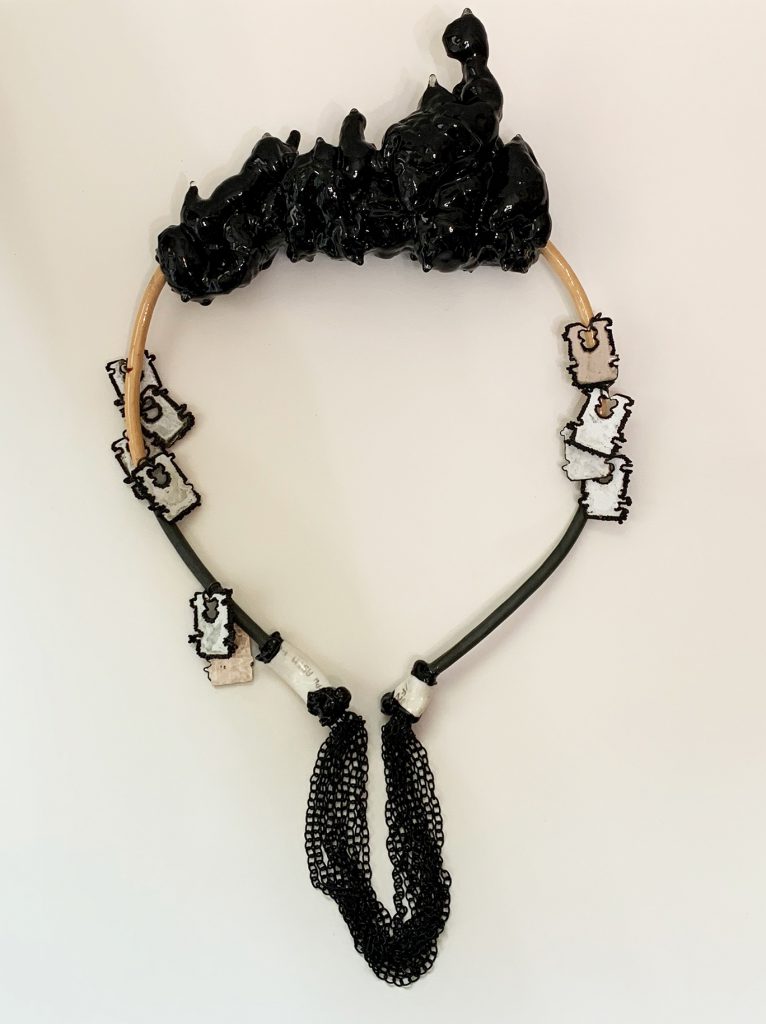 Maria Camera Smith
MFA Candidate

Vicious Manipulated Landscape, 2019
Copper, enamel, foam, pigment, plastic, resin, steel, silver

One leaves many objects behind after use, whether it be an item as fleeting as single-use plastic or one as intimate as a body. The landscape collects material remains within details that are large and small. The works I am producing are wearable objects to observe humankind's relationship with its environment through contemporary and traditional metalsmithing techniques and materials.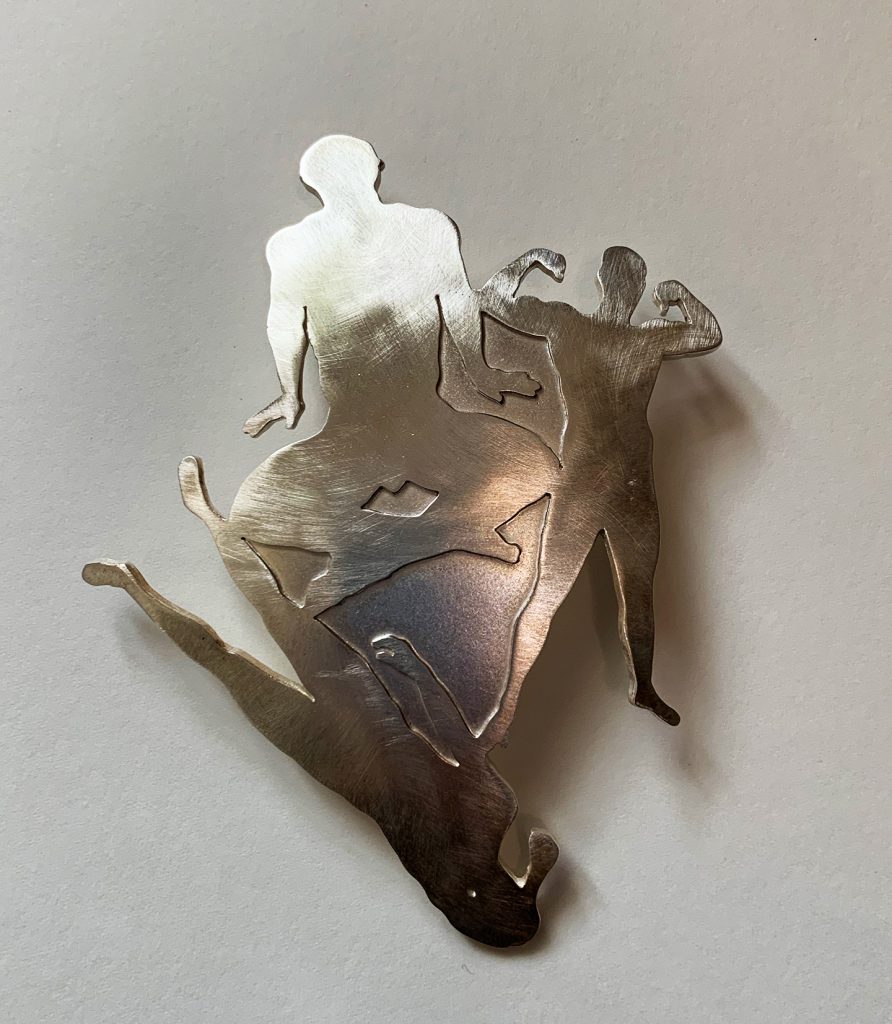 Andrew Kuebeck
Faculty

Silhouette Brooch #1, 2019
Fine silver

Recently I have been interested in exploring the body as landscape. With my new work I am creating clusters of male silhouettes whose position in space confuses their location and relationship with one another. I am interested in how this confusion is even furthered with its placement on actual human figures, creating a new Micro/Macro relationship.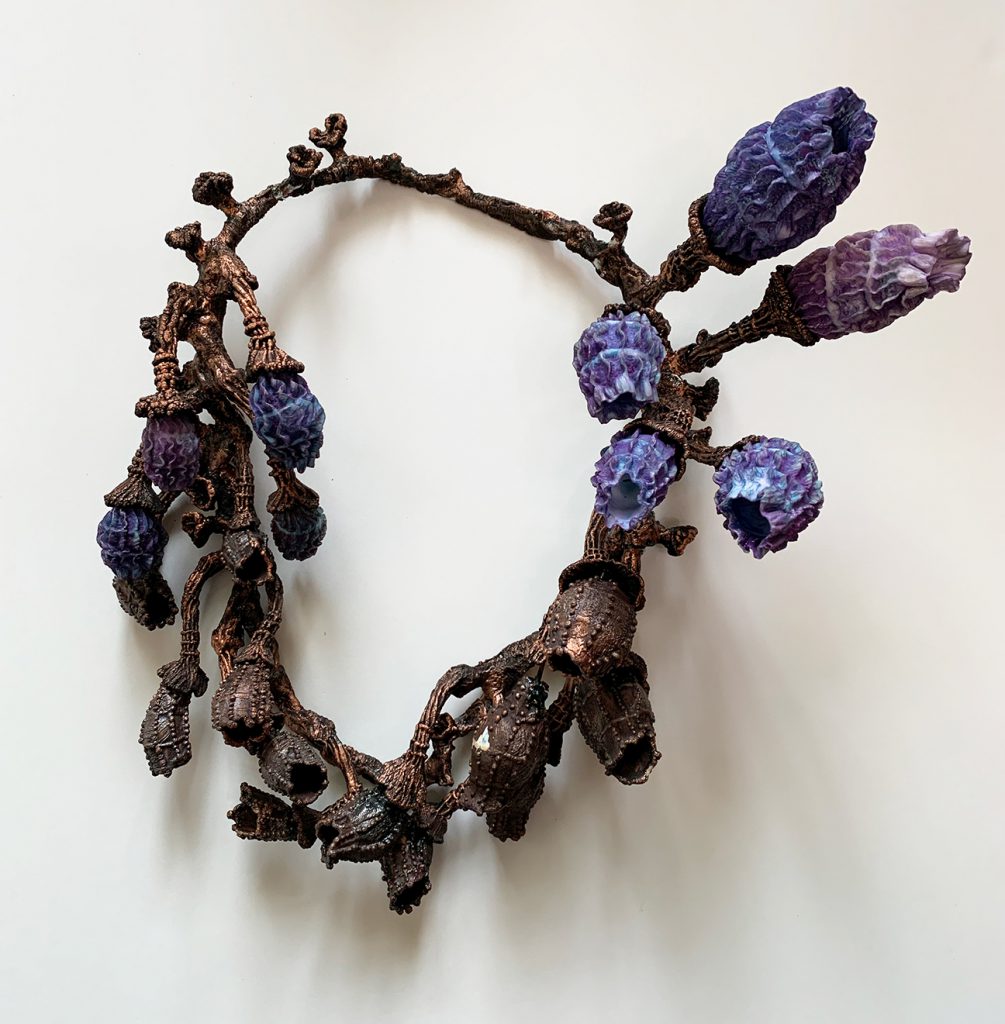 Jody Vankeuren
MFA Candidate

Electroformed Remnants: Pod, 2019
Copper, cold porcelain, resin

A fundamental element in micro and macro nature is repetition; microstructures within a cell resembles the way dried mud cracks. In this necklace I explore the idea of repetition in micro and macro nature by enlarging small botanical pod forms. When enlarged the recurrent patterns, composed of folds and granules, within the forms become more apparent and are highlighted.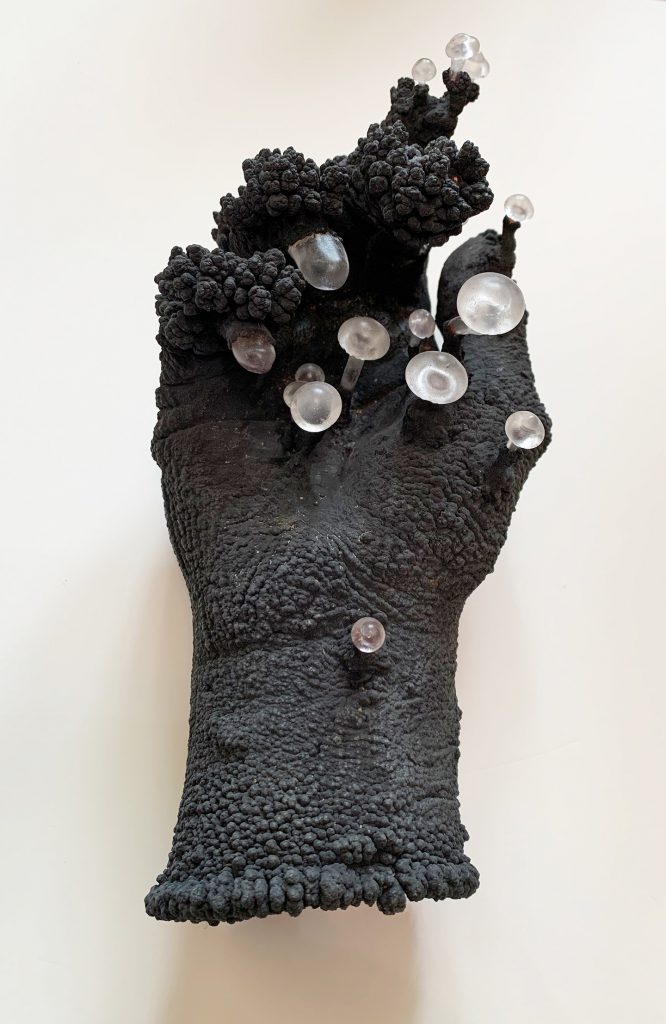 Christopher Jackson
BFA Candidate

Sporadic, 2019
Copper, glass

Sporadic- This work revolves around the displacement of life and its relation to nature growing from it. The duality between life and death also reflects the idea of macro and micro by sharing how death is but a smaller part in the big picture of life as a whole. This also relates to how as the world evolves, so do the relationships (both big and small) between nature and itself.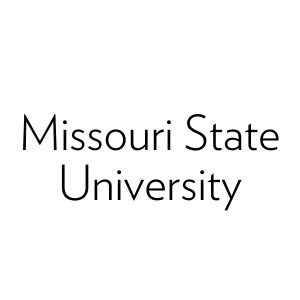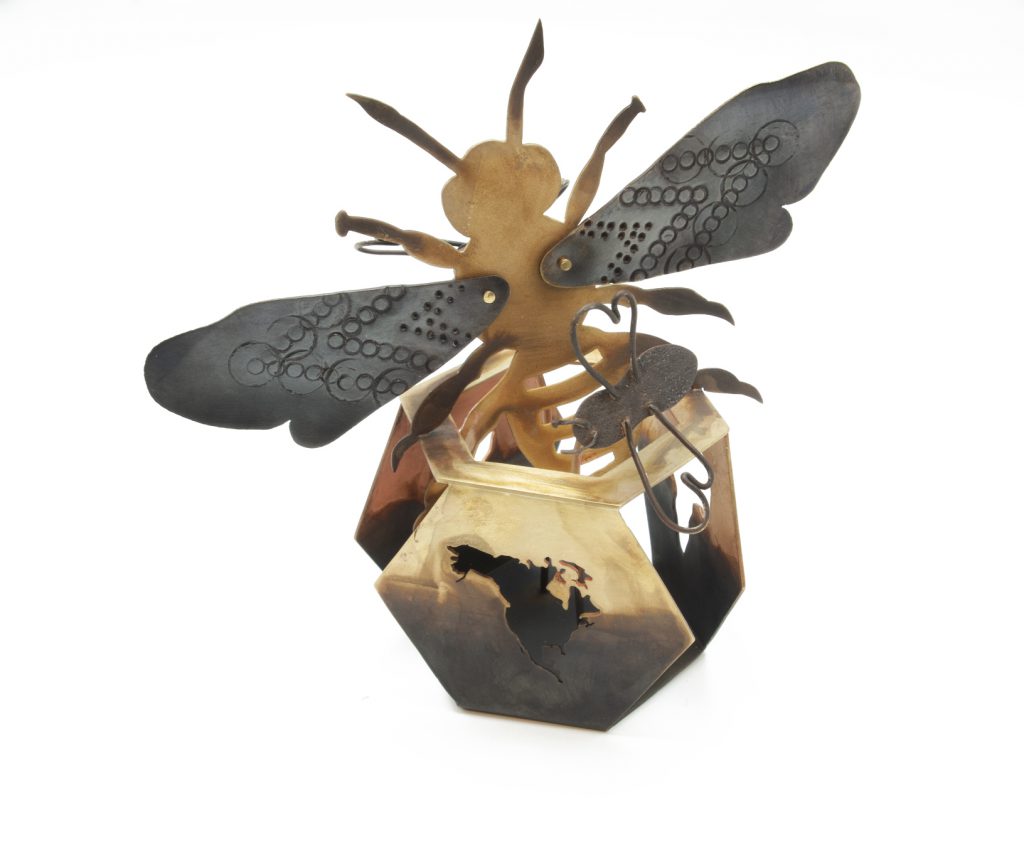 Kaitlyn Herter
BS Candidate

Bees
Brass, copper

The fate of our 3,958 mile long planet lies in the fate of a 15 millimeter long insect.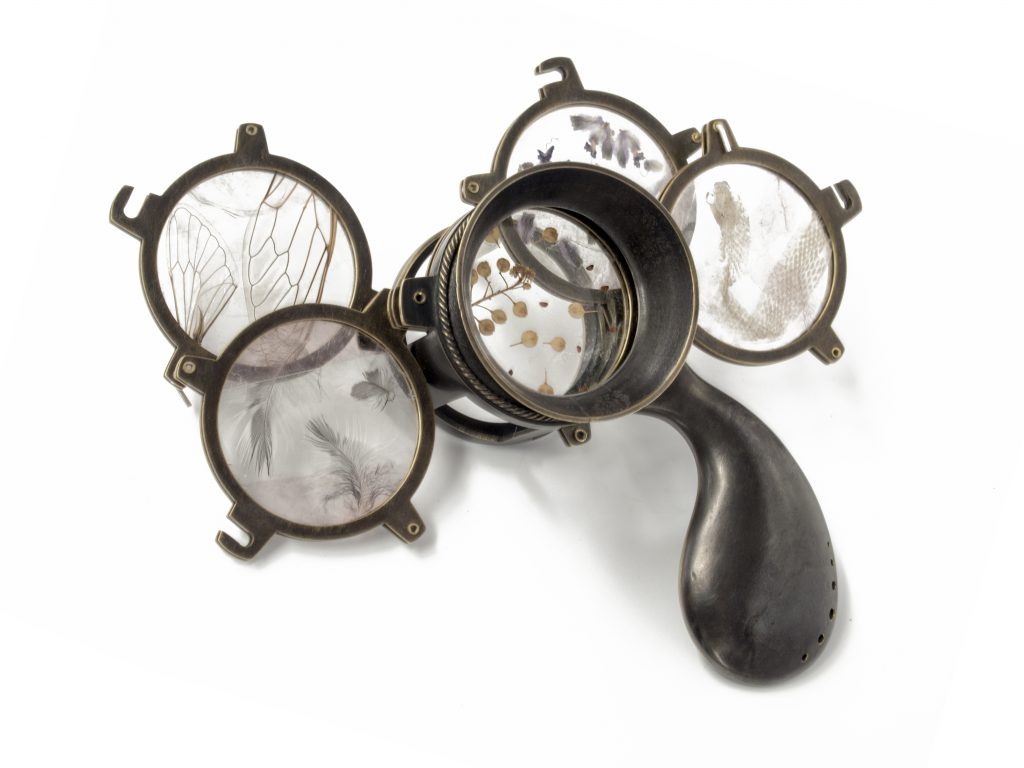 Johanna Typaldos
BFA Candidate

Lenses, 2018
Brass, mica, found objects

While a magnifying glass is used to examine physical details up close, I created Lenses as a tool to examine ties between me and my family members. My grandmother wore bifocals when performing her needle point. This invented jeweler's loop illuminates similarities between the two of us as makers. Each lens is filled with natural materials that trigger specific memories from my childhood, the viewer is invited to peer in for a closer look.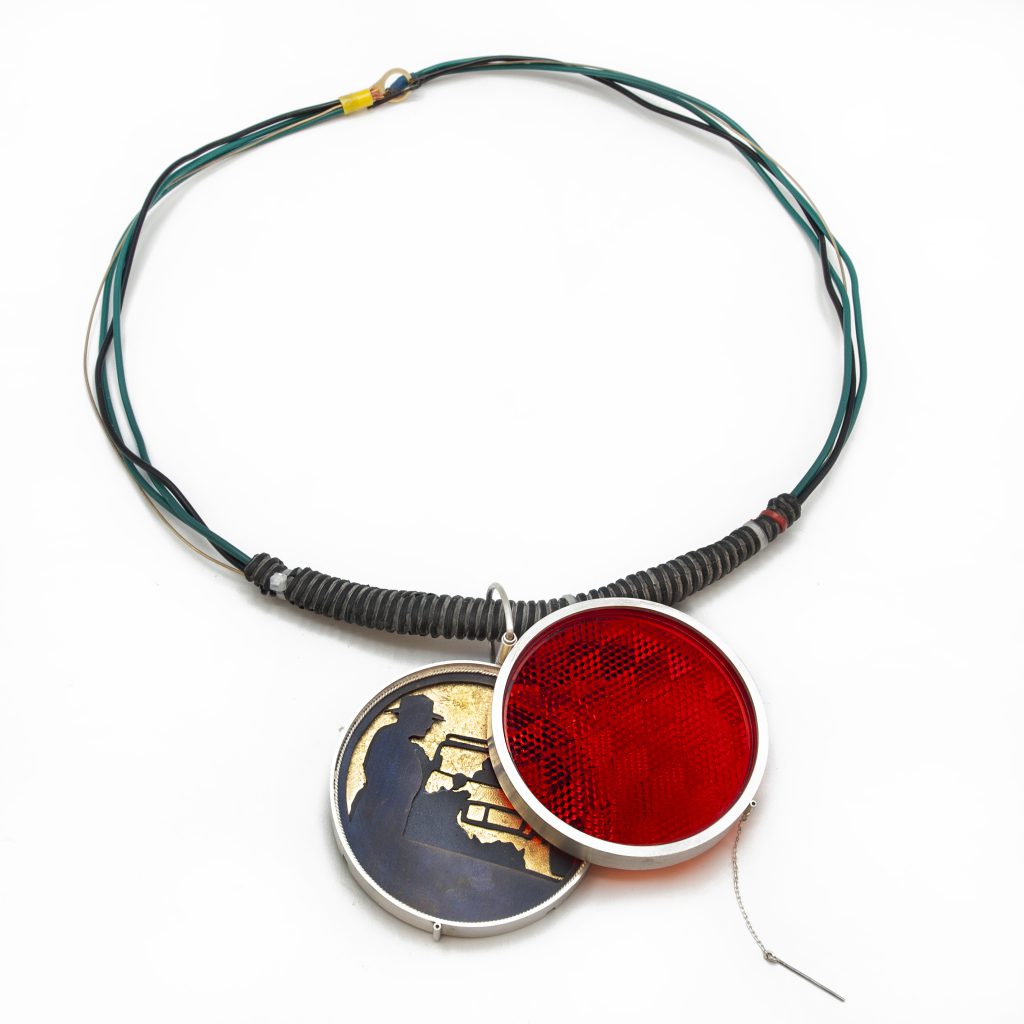 Diane Ash
BFA Candidate

The Mechanic's Locket #2, 2019
18k gold, rubies, pearls

My great grandfather Roy Ray Bolton helped kick start a 60 year continuous tradition of creating these hand-built sand climbing dune buggies. With the locket medallion, I am allowing myself to store the small pieces of memories of him. The memories will eventually fade and blur, but the huge achievement he created and how it affected me will remain strong.
Trevor Doell
BFA Candidate

Tornado, 2019
Copper

Tornadoes form gradually while increasing in size and strength. These vortices are formed from multiple pieces of rotating debris and dust. Their paths start off small but grow in sheer size the longer they are on the ground creating destruction.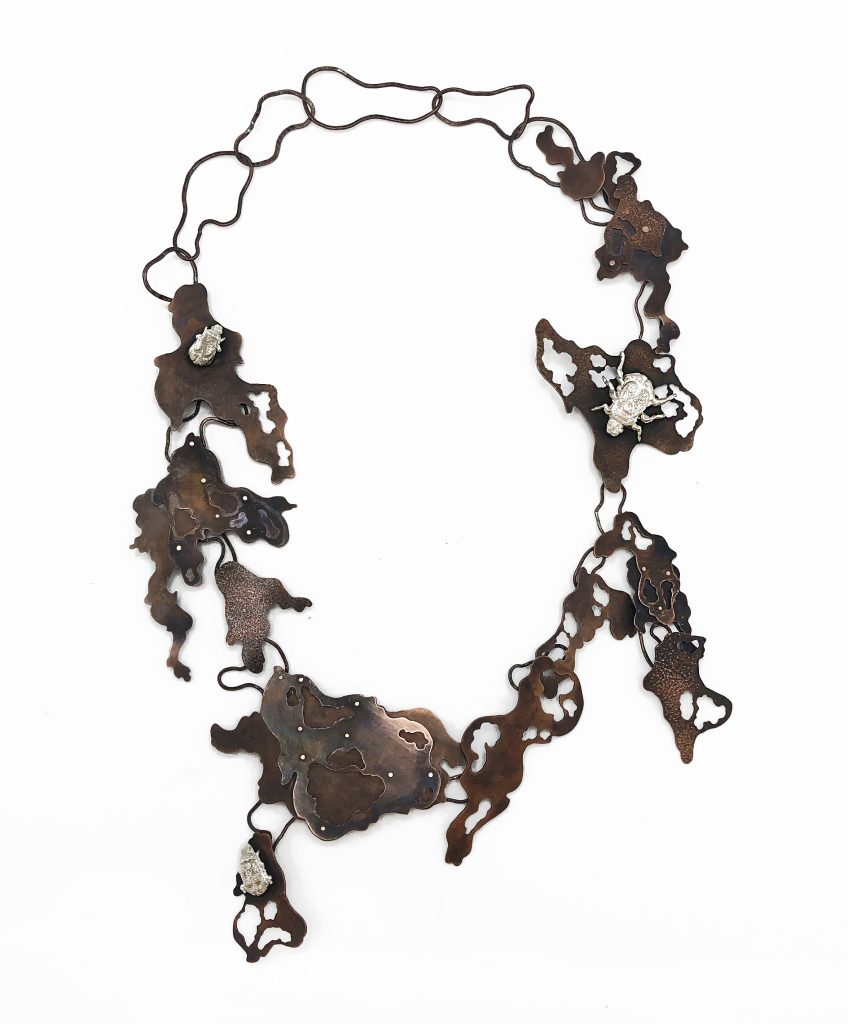 Alexis Griner
BFA Candidate

Little Mouths, 2019
Copper, sterling silver

This necklace showcases the relationships between insects and the ecosystem. How such small things can cause ripples within the environment and the value they bring to everyday life.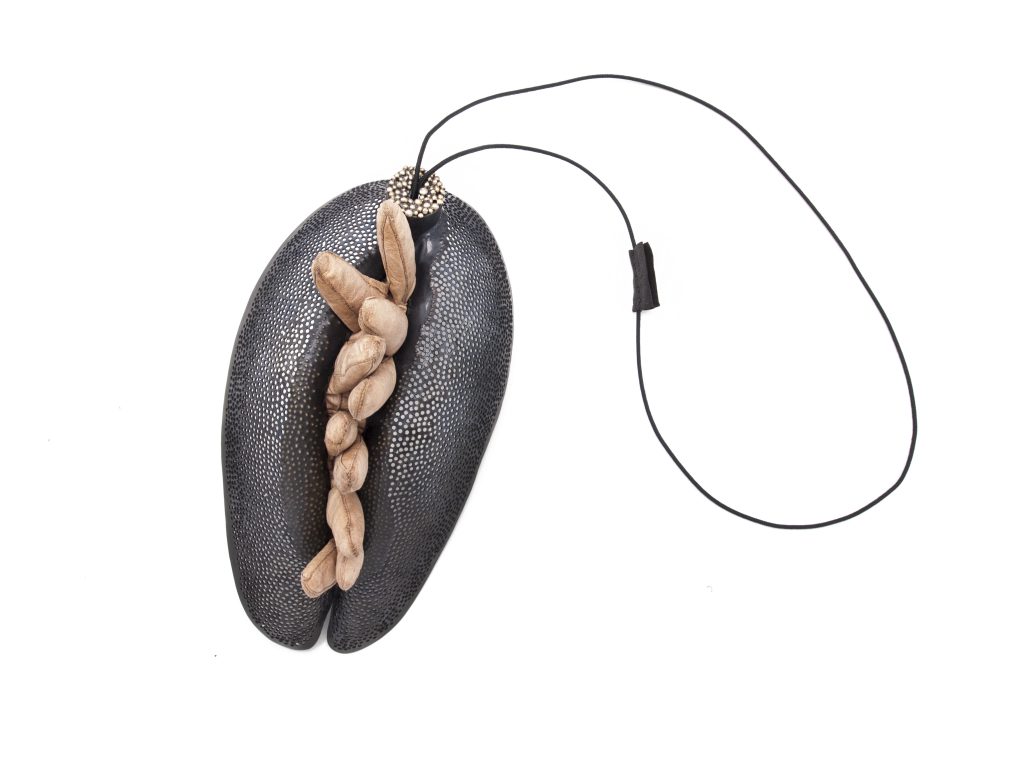 Jina Seo
Faculty

Fingers, 2019
Brass, leather gloves, thread, cord

Fingers is my interpretation of the idea of desire as a primary motivation in mankind. Whether the energy is small or big, it is embedded everywhere, as we go about our everyday lives.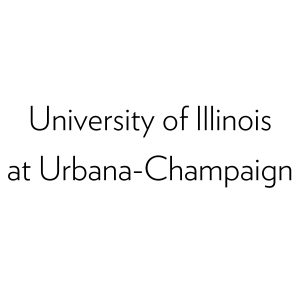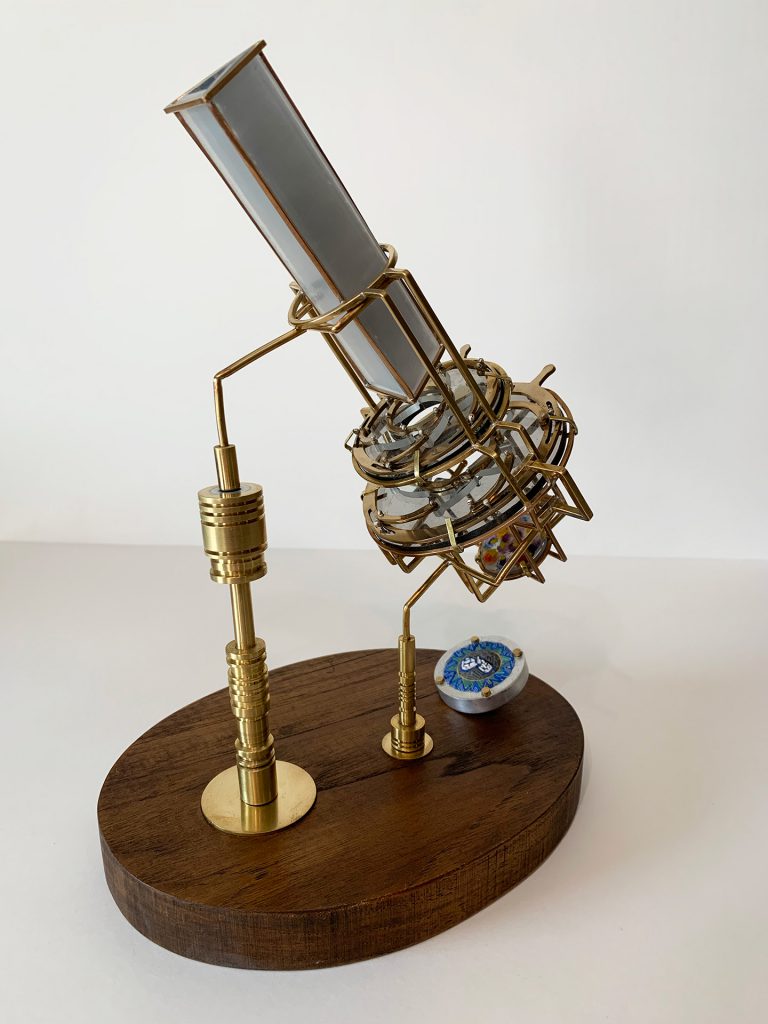 Shuning Zheng
MFA Candidate

Life Microscope, 2019
Brass, acrylic, resin, wood, aluminum, polymer clay

When we use our eyes to see the world, we can see the diversity and immensity of the world. When we use our mind to see the world, we can see the origin of life.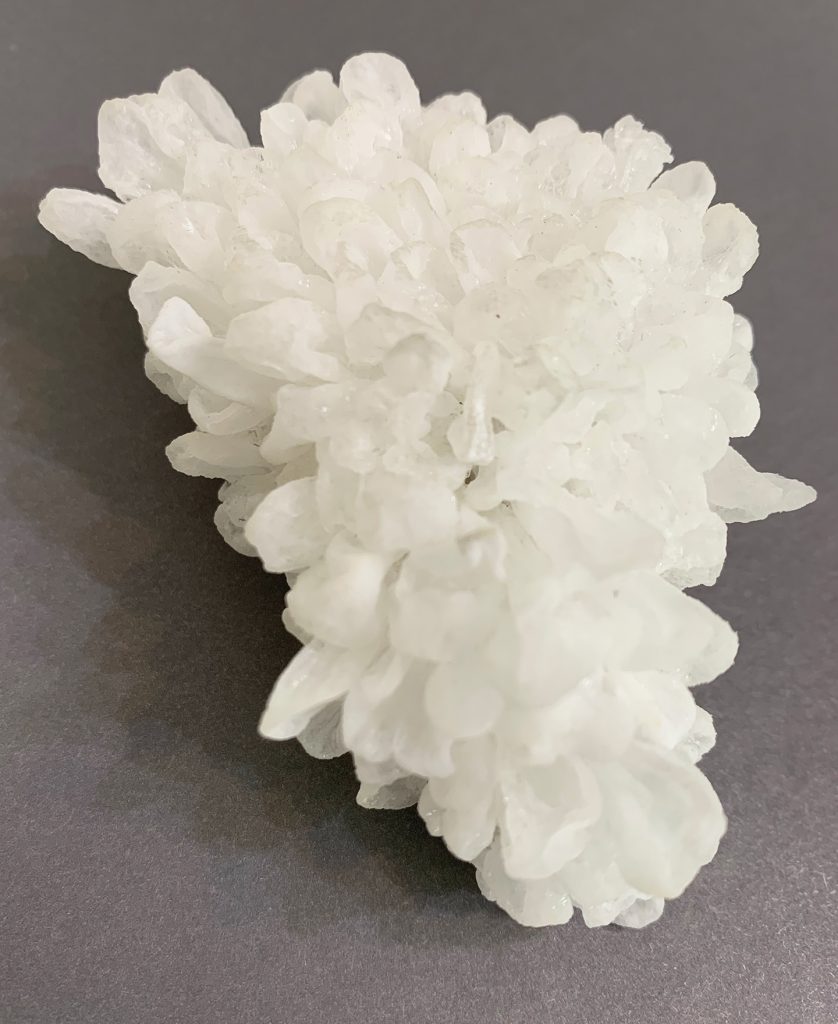 Luyao Chen
MFA Candidate

Superglue, 2019
Superglue, nickel silver, sterling silver

Super-glue, a miniscule/macro material used to connect parts, is never viewed as an independent entity. What if it is takes on its own agency and takes center stage? What are the possibilities of super-glue when it's materiality, aesthetic, and power are confronted?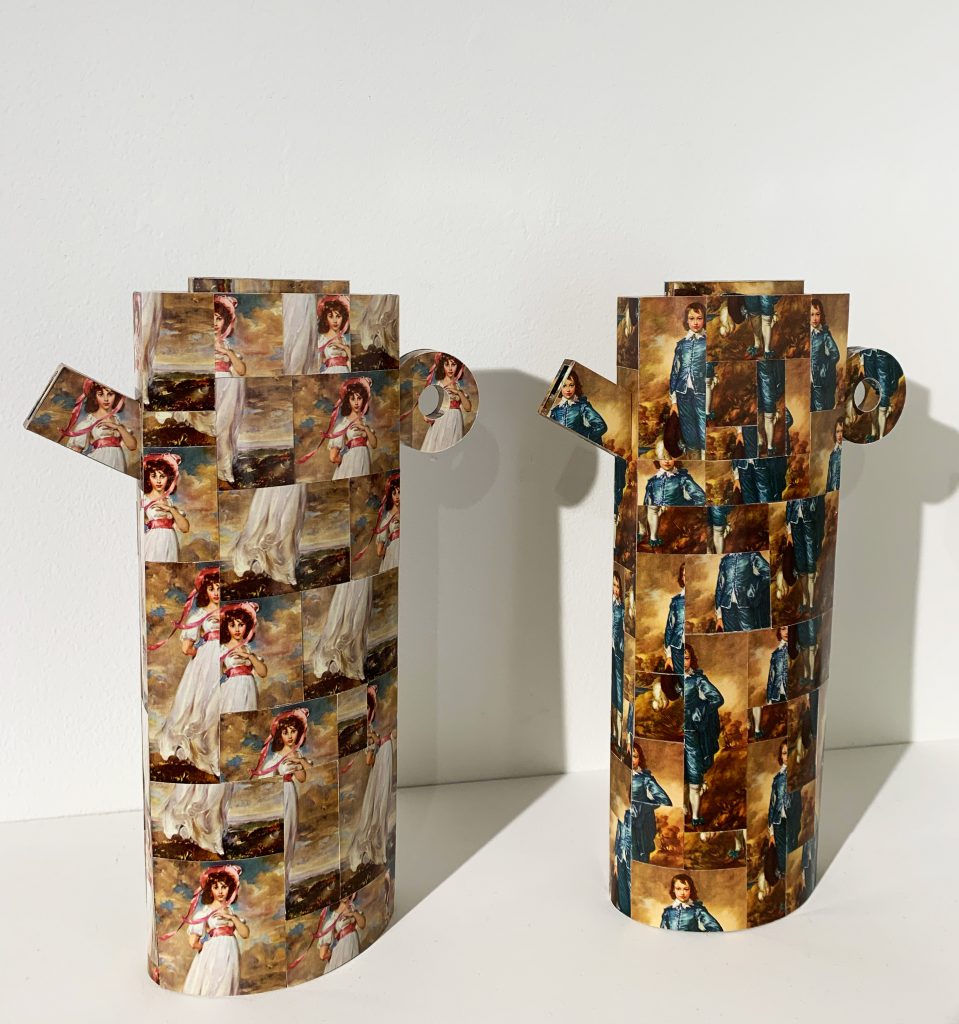 Billie Theide
Faculty

Duratone: Pinkie & Blue Boy, 2017
Vintage Duratone plastic coated cards, birch

min-i-a-ture
noun
a thing that is much smaller than the original

Pinkie was painted by Thomas Lawrence in 1794. The oil on canvas is 57" x 39" and resides in the Huntington Library in San Marino, CA.

The Blue Boy was painted by Thomas Gainsborough in 1770. The oil on canvas is 70" x 44" and also resides in the Huntington Art Gallery in San Marino, CA.

Duratone: Pinkie & Blue Boy was created by Billie Theide in 2017. The teapots are fabricated of vintage Duratone plastic coated cards on birch. The objects stand 10.25" x 6.5" x 2.5" and reside in the collection of the artist.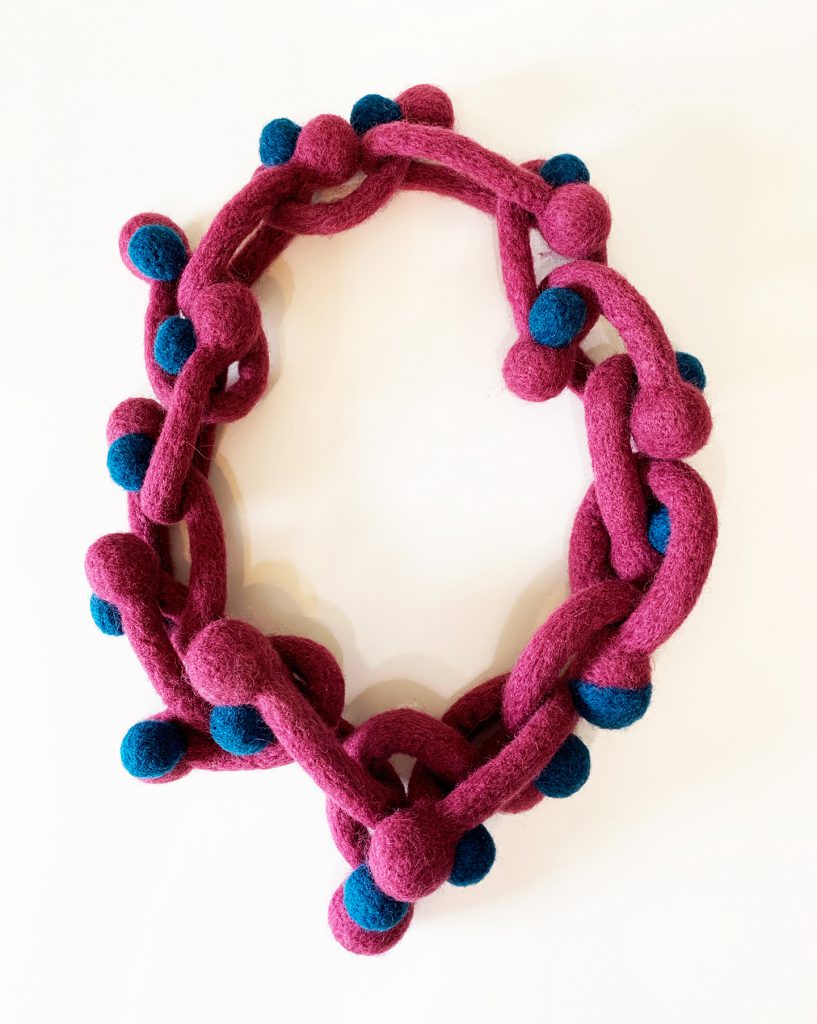 Patricia Leon Quecan
MFA Candidate

Life Chain, 2019
Cerulean blue and lilac haze wool top dye

The molecule, significant and delicate, is present in all living organisms. As the smallest fundamental unit of a chemical compound, molecules are joined to create a macromolecule – the life chain for every organism.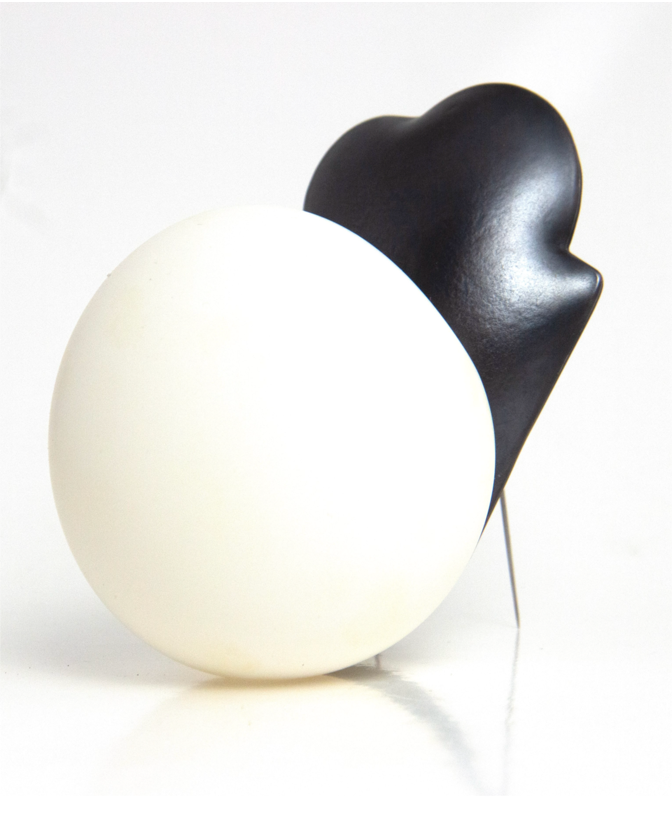 Yuqing Zhang
MFA Candidate

Contrast Sensory 01, 2019
Balloon, copper, stainless steel

Time is an element in this micro/macro body of work. Initially, the balloon is the "macro" partner; when fully inflated, it overwhelms the copper component in scale. With time, the balloon shrinks to become the "micro" partner in the relationship. Likewise, the expandable foam component is initially the "micro" element. With time, the foam expands to become the "macro" partner in the relationship. The micro/macro relationship shifts in each work.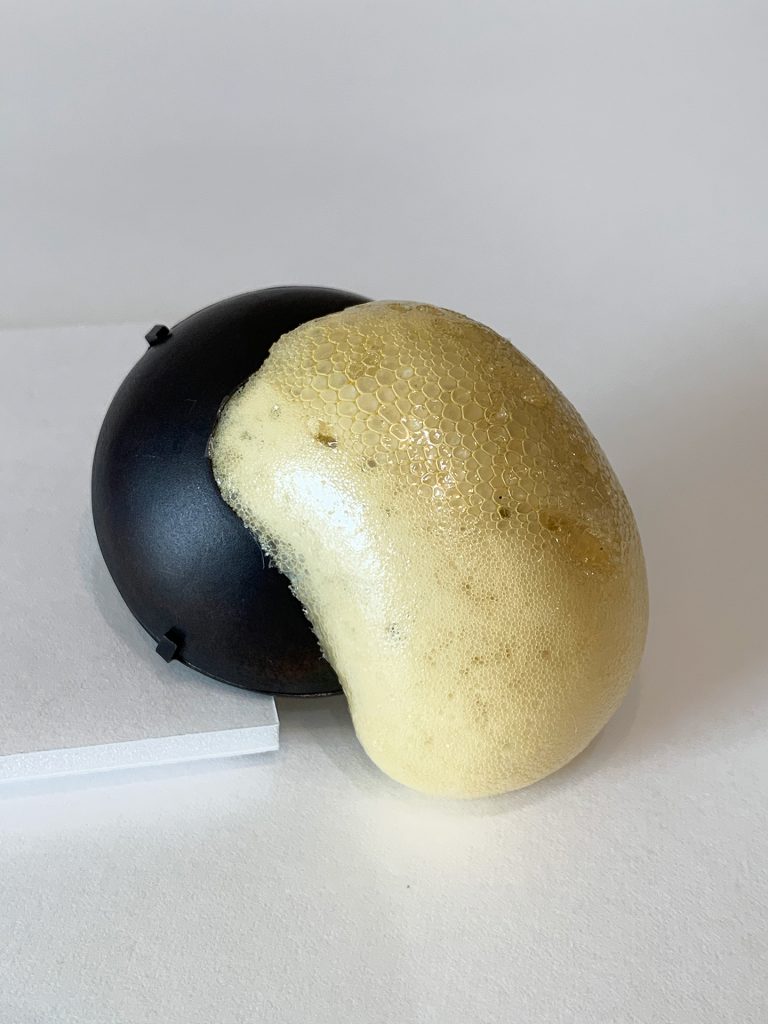 Yuqing Zhang
MFA Candidate

Contrast Sensory 02, 2019
Foam, copper, stainless steel

Time is an element in this micro/macro body of work. Initially, the balloon is the "macro" partner; when fully inflated, it overwhelms the copper component in scale. With time, the balloon shrinks to become the "micro" partner in the relationship. Likewise, the expandable foam component is initially the "micro" element. With time, the foam expands to become the "macro" partner in the relationship. The micro/macro relationship shifts in each work.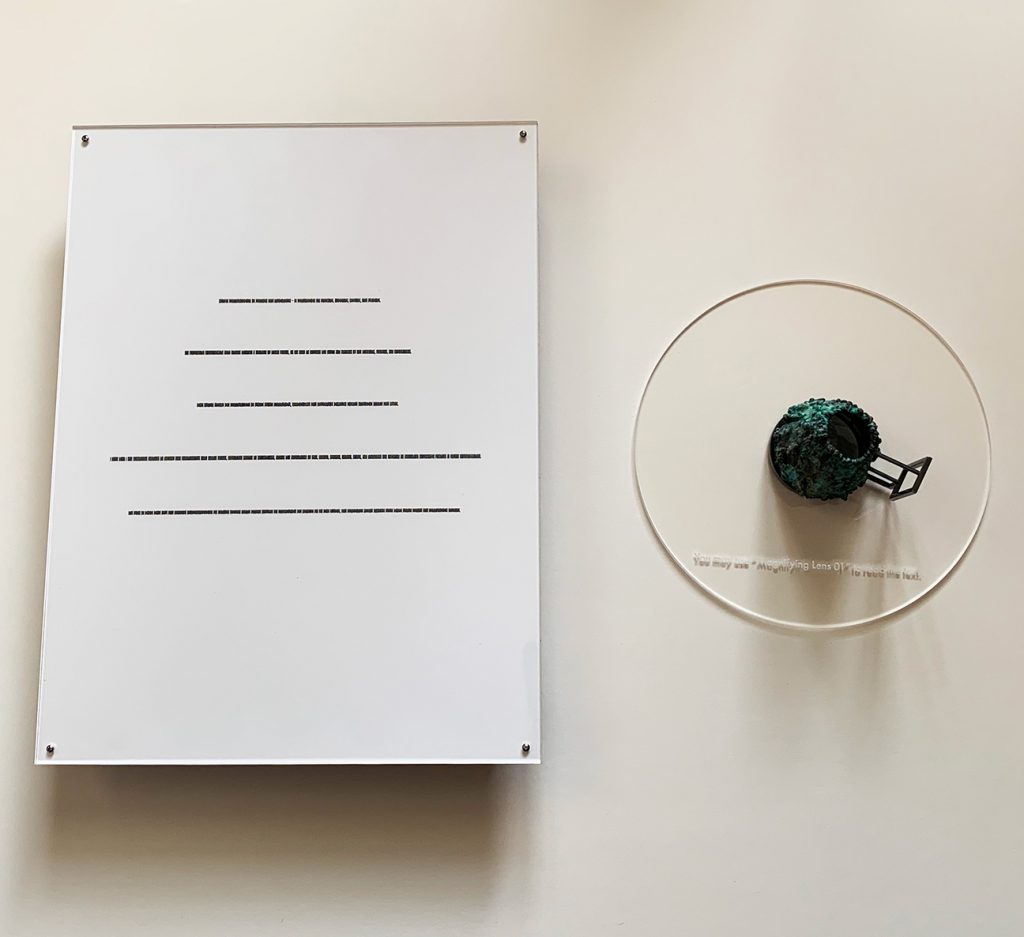 Amanda Shin
MFA Candidate

Magnifying Lens 01, 2018
Polyester resin, copper, sterling silver, convex lens

A magnifying lens is a tool that is used to decipher text. Only a section of the full text becomes visible as hand and body adjust to bring letterforms into focus. Collectively, letterforms become words, words become sentences, and sentences become the writer's thoughts.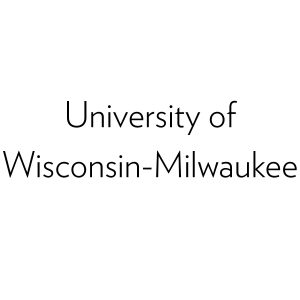 Yevgeniya Kaganovich
Faculty

The Weight of Things , 2019
Reused plastic bags, copper, copper shot

The neckpiece The Weight of Things juxtaposes the idea of preciousness against the discarded artificial material it is made out of. I use a traditional craft process, crocheting, to contrast the slow labor intensive making with the speed of refuse. Small stiches, vast land fields. This materially and time-dense object is a physical manifestation of numerous bags discarded and time spent in a futile attempt to reclaim them. In addition to being made out of and stuffed with plastic bags, the piece is physically weighted to make us consider what it means to carry these materials on our bodies.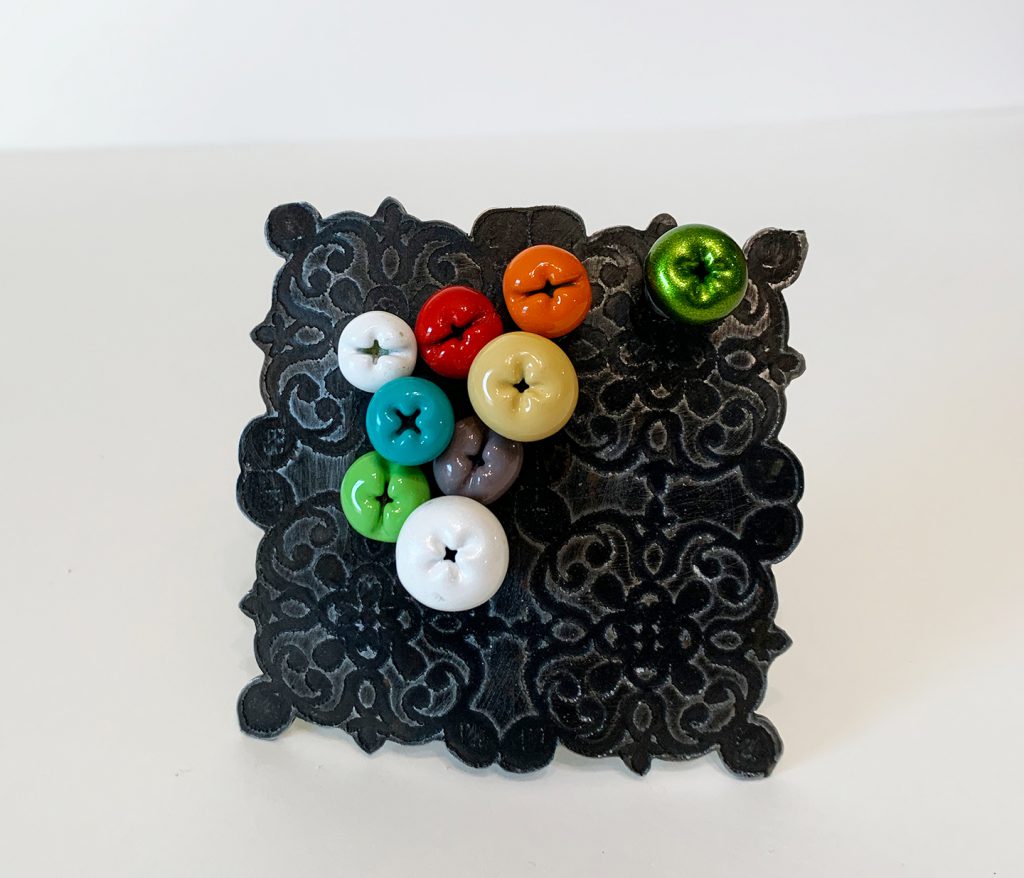 Erica Meier
Faculty

Palimpsest #1 (brooch), 2018
Bolts, acrylic, enamel, steel

The metamorphosis of our cultural objects has changed the way we communicate, the way we work, and the way we adapt to change and difference. Through the lens of personal history, the role of the dysfunctional tool is a constant protagonist in my practice. "Palimpsest" shows traces of process with layers of pattern, time, and material. It is a record of labor and its subtleties.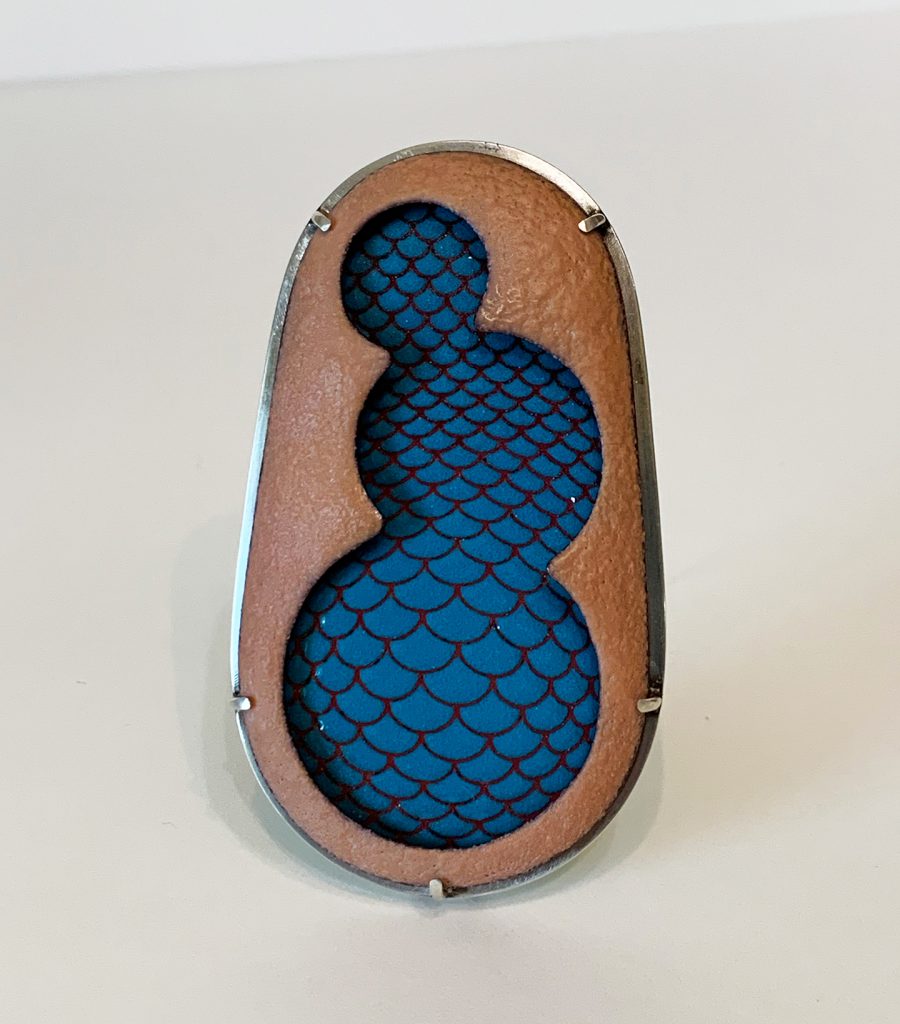 Adam Hawk
Faculty

Island Brooch, 2019
Sterling and fine silver, copper, vitreous enamel

I sketch, make things, and explore. Whether a short bike ride to work, or a prolonged camping trip on a deserted island, my exposure to urban and natural aesthetics, both big and small, has had a major influence on my design vocabulary. The natural world guides me, and a simple rock becomes a brooch. The body of a trout becomes an alphabet. Things outside of myself control the language I use to describe my experiences.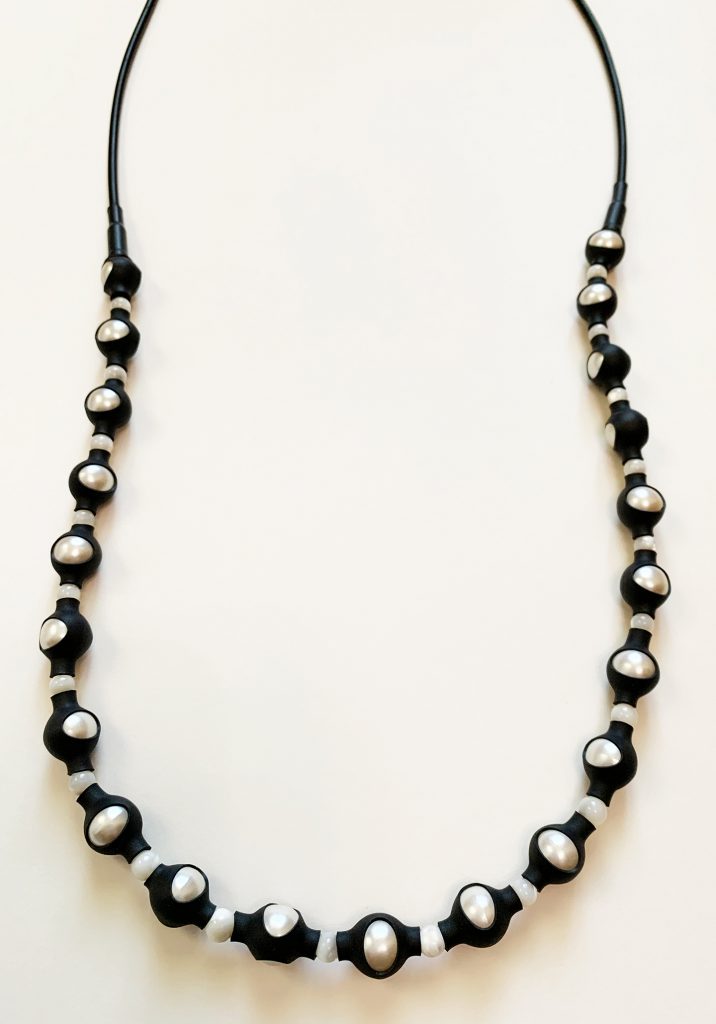 Jim Charles
Faculty

Pearl Slips Neckpiece, 2019
Imitation pearls, rubber, aluminum

In Pearl Slips, artificial pearls and small beads are made into a movable rubber wrapped spine, mimicking membranes and joints, as well as ocean organisms. Visually, this piece alludes to microscopic and possibly alien life. The juxtaposition of rubber as a utilitarian material with the traditional pearl necklace is meant to create a unique hybrid aesthetic.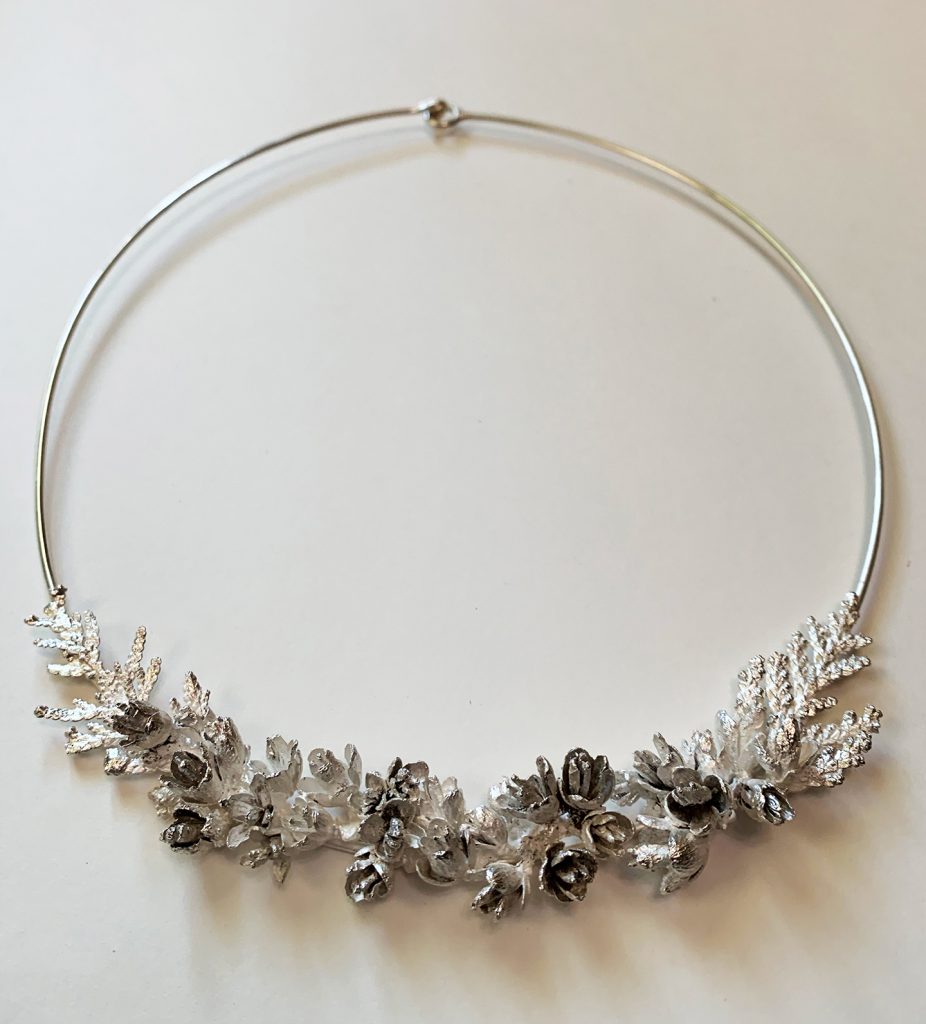 Madeline Jager
BFA candidate

Budding Necklace, 2019
Sterling silver

This work is the result of my collecting and casting of small fallen plant life on campus. It is a study of examination, transformation, and preciousness. The ephemeral is made permanent; the organic becomes inorganic. It is an invitation to closely at the small world.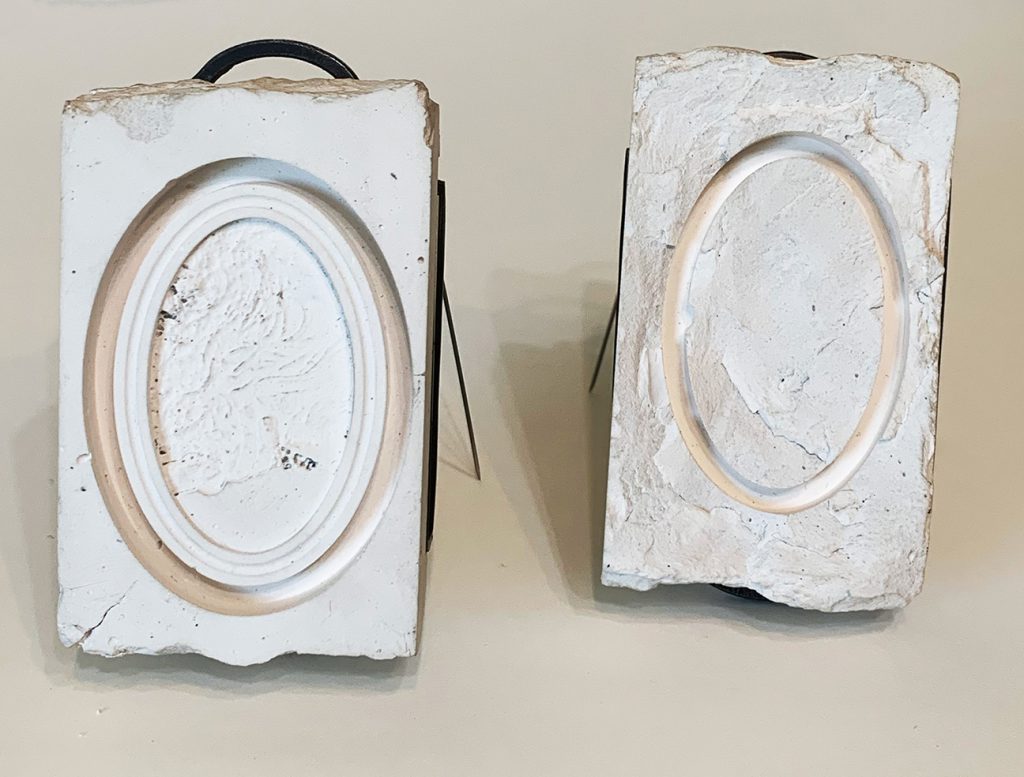 Lilly Luft
BFA candidate

Imageless Cameo Diptych, 2019
Porcelain, sterling silver

Cameo Diptych is a set of two brooches in carved porcelain and steel, they are part of a body of work that explore historical modes of representing oneself and others at the small scale. Each object contains both a mirror and a cameo and represents a common historical format for presenting those objects. By destructively obscuring and revealing either the cameo or mirror to different degrees, they create the expectation of an image and invite further exploration.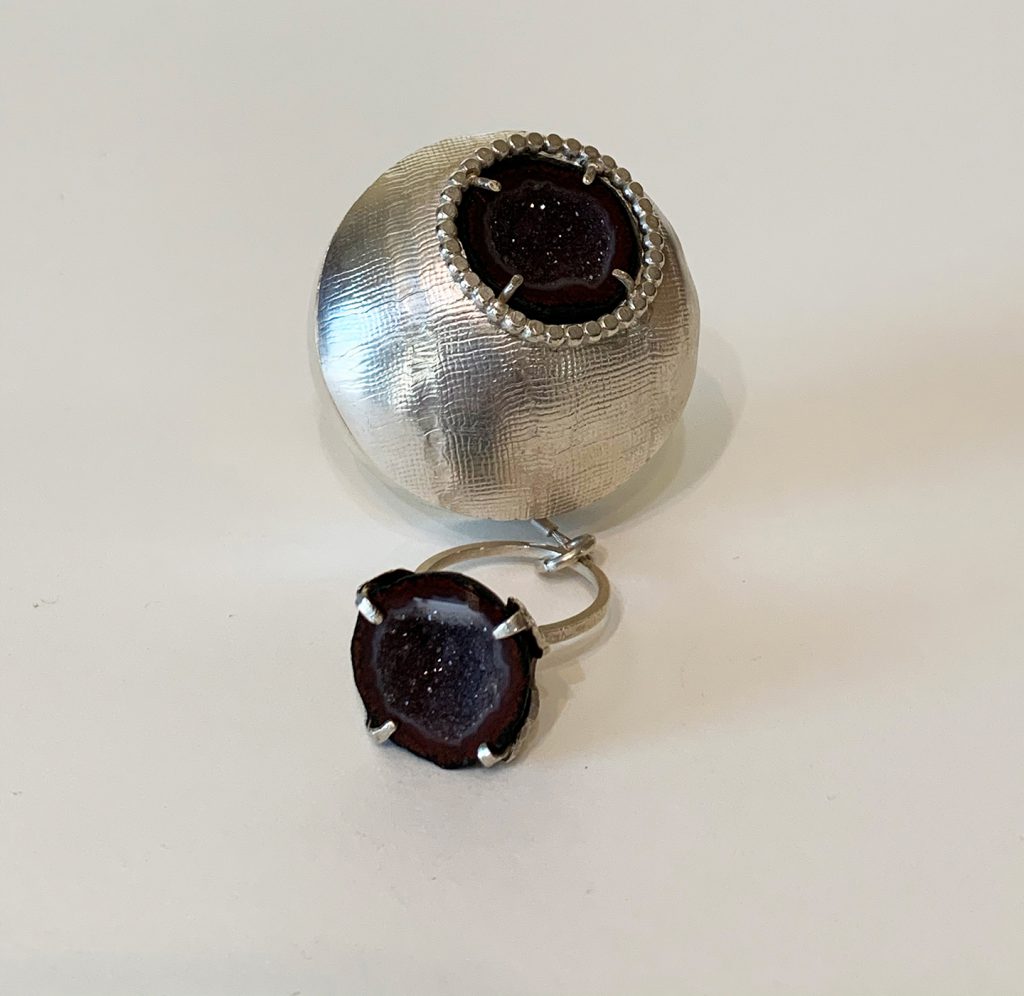 Kailey Floryance
BFA candidate

Till Death Do Us Part…?, 2018
Sterling silver, diamond, geodes, badge reel, paper notes

The companionship between the ring and the brooch represents the complexity of today's romantic relationships. Each of these pieces alone, represent the individuals (micro) of the relationship, but together the pieces represent a promise (MACRO) the individuals made to one another. The two halves being able to be worn by one or a pair, serves as a reminder that relationships may not always be easy, but are worth the effort you put into them.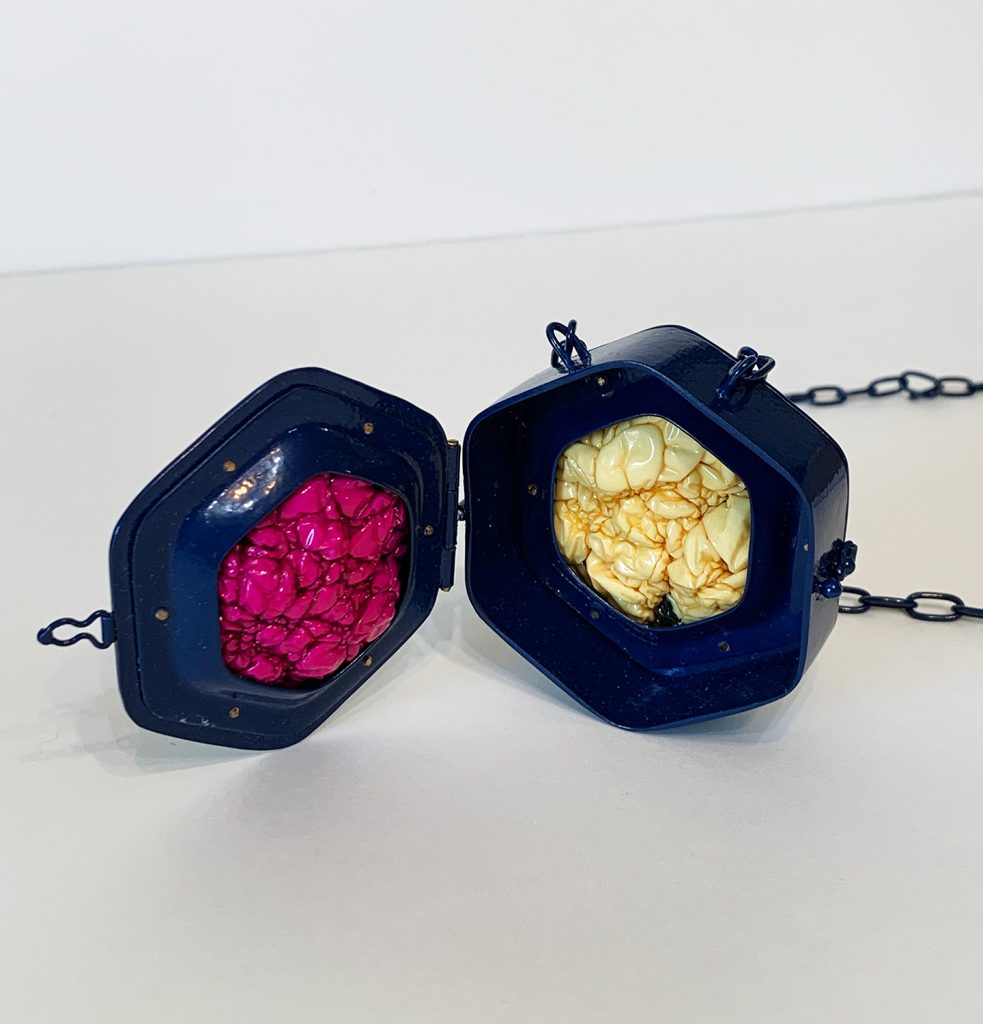 Sophia Hermann
BFA candidate

Nervous, 2019
Copper, cellophane, powder coat, resin

This locket is inspired by microscopic images of a human nervous system. The locket is made with cellophane, resin, brass, and blue powder coat. I used these brightly colored materials with their variety of textures and a unique hinge mechanism in order to create a playful object that allows the viewer to explore forms from a world under a microscope.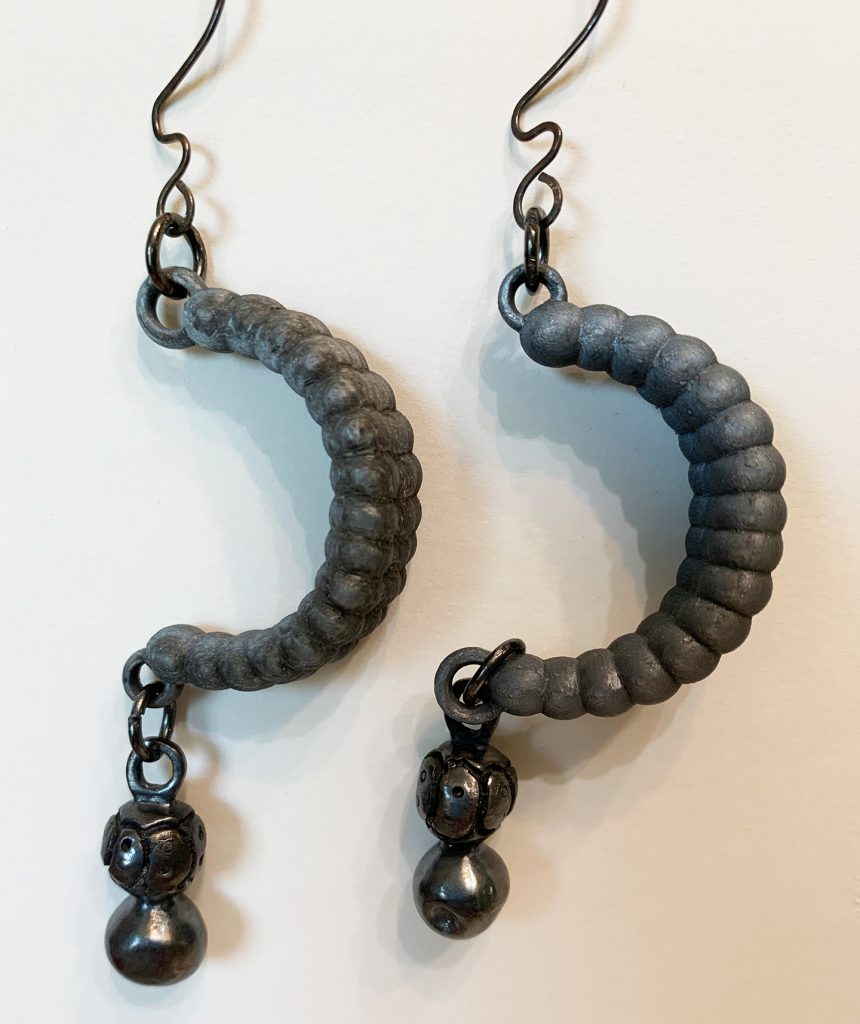 Malachi Aminga
BFA candidate

Bananas and Grapes Are Awesome, 2019
Plastic, sterling silver

My piece "Bananas and Grapes are awesome" was inspired by fruit. I made this pair of earrings to reveal the understated beauty of fruits, things that are consumed daily because of their nutritional value, taste, color or size, but could be more than what meets the eye.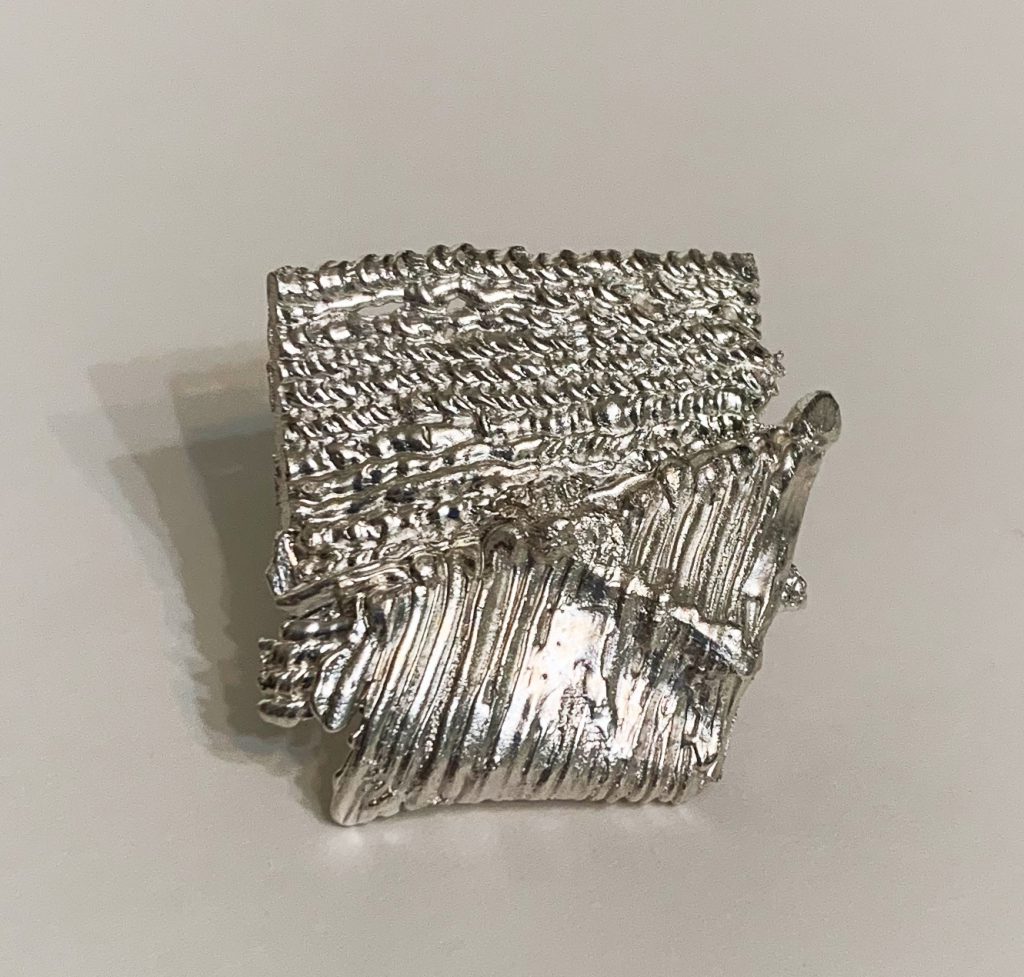 Vincent Pontillo-Verrastro
Faculty

stack'a dimes, 2020
Fine silver, sterling silver
I use jewelry as an intimate platform to present autobiographical narrative.

Currently I am interested in how the colloquial welding term "stack of dimes" can operate as a metaphoric device to articulate my thoughts on preciousness, intimacy, and connection.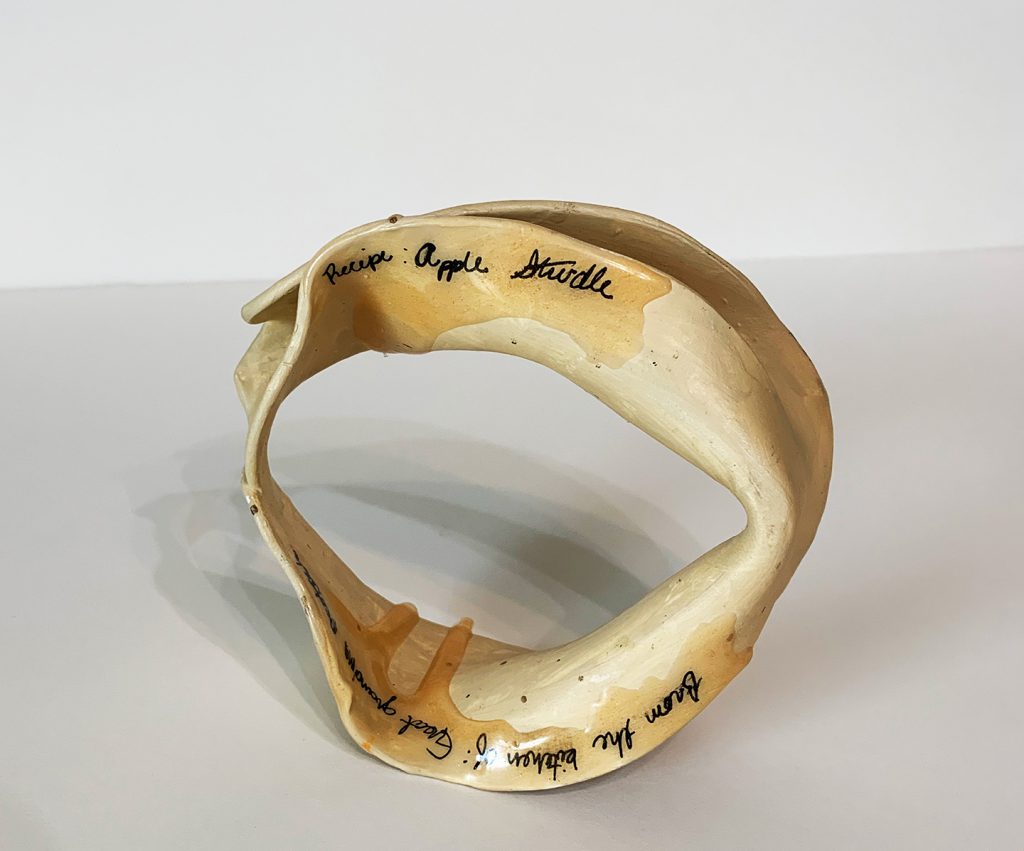 Teresa Moehrke
BFA Candidate

Great Grandma, 2019
Polymer clay, resin, salt, mica, ink, acrylic, wax

Great Grandma is a glimpse into family connections and the passing of lineage. Creating abstract forms related to memories of food, it is my intent to create a conversation.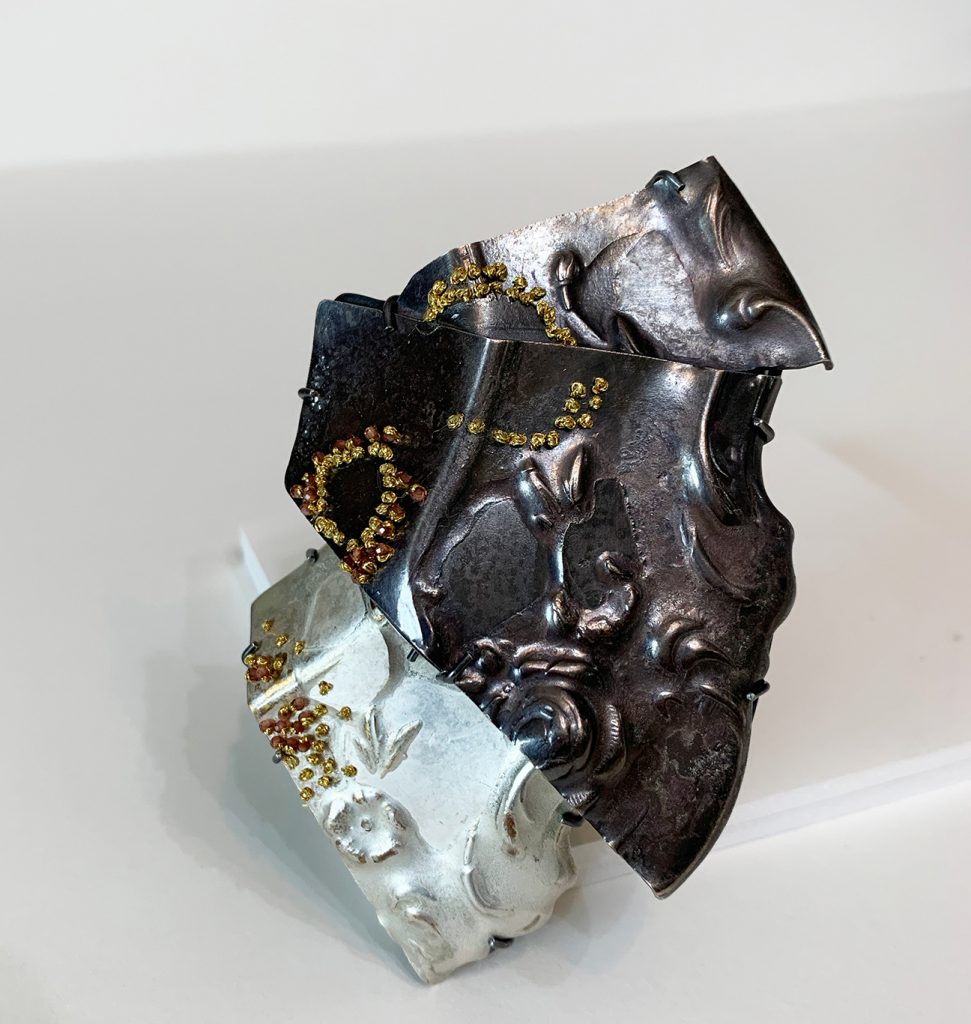 Masako Onodera
Faculty

Vestiges, 2019
Silver plated tray, sterling silver, stainless steel, gold thread, garnet

When I hiked in southern Utah, I saw lichens on sandstones that are hundreds to thousands of years old. I was inspired by the strength of the simple organisms that often grow less than a millimeter a year. It gave me a realization that everything takes time to advance.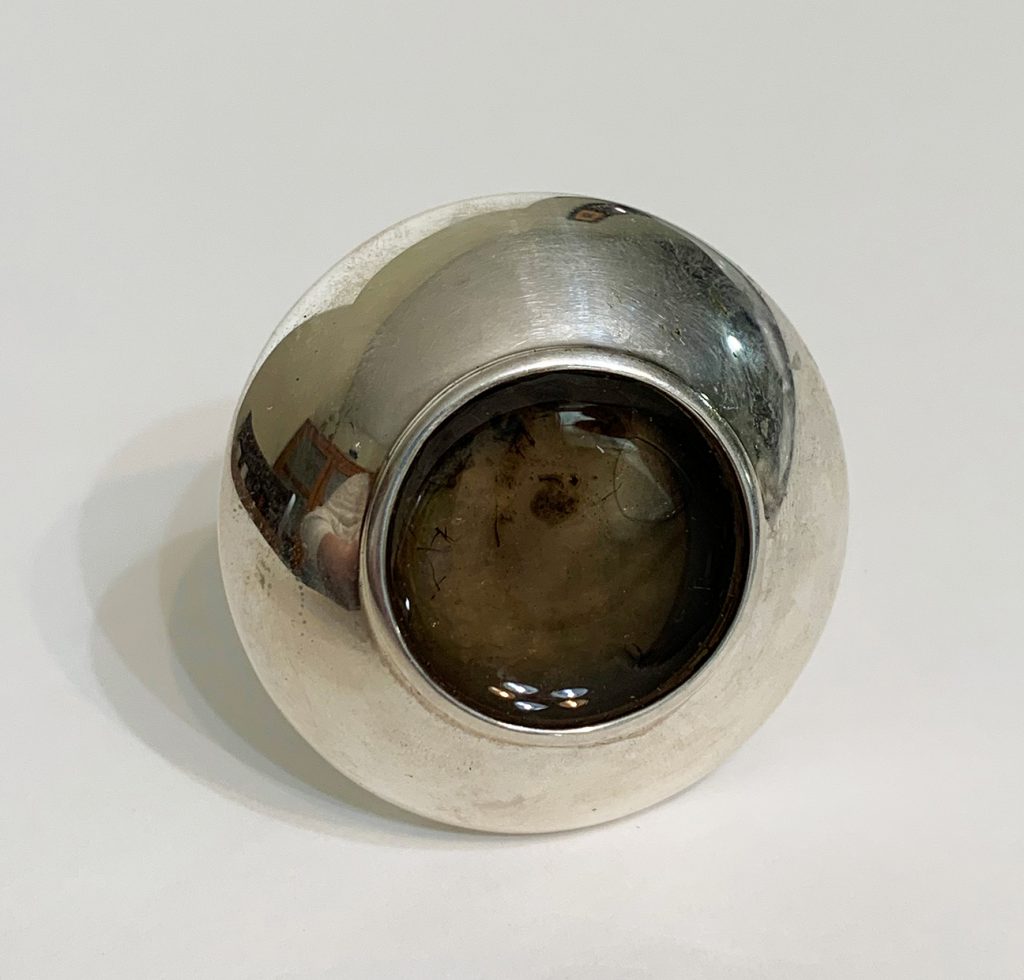 Chloe Darke
Faculty

Brooch, 2019
Sterling silver, steel, agar, bacteria colonies, resin

This piece references the activities that take place in a laboratory. These environments are where the microscopic world is augmented and made easily observable. Elements of the outside world can be distilled and recreated as a microcosm in a Petri dish, transforming something almost invisible from the greater environment around us into something quantifiable.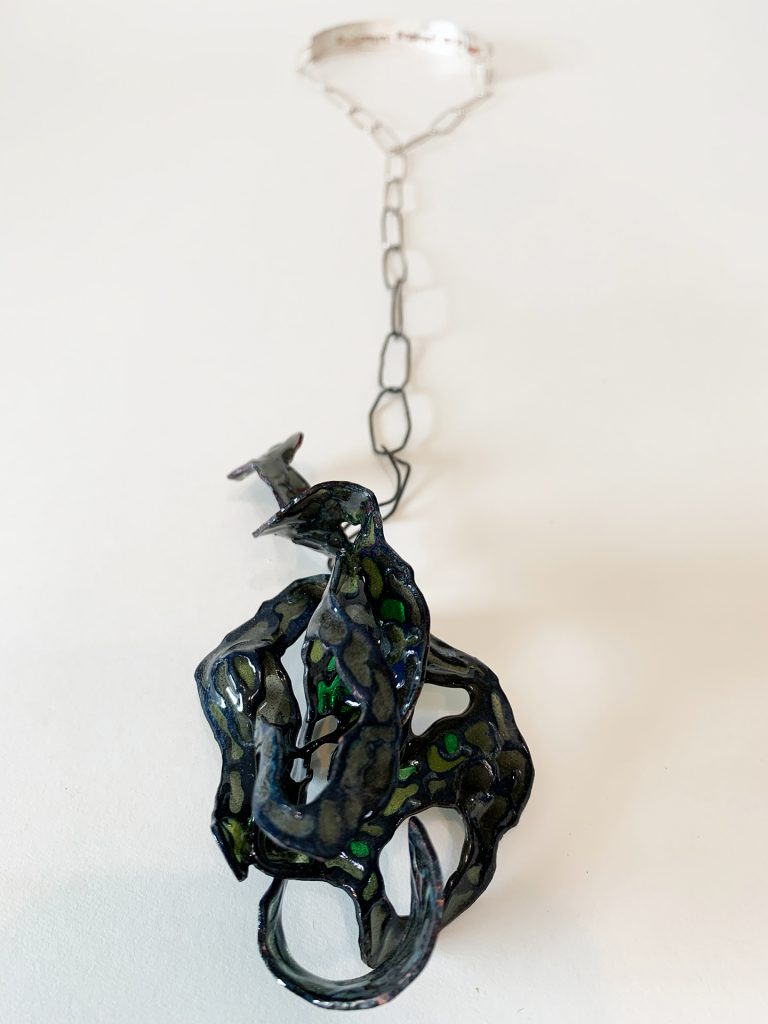 Grace Wallstead
BFA Candidate

You're So Fucking Immature, 2019
Sterling silver, copper, enamel

My work externalizes complex interior sensations related to dramatic and specific events. Essentially, it is the manifestation of disappointment, anguish, and hurt related to a breakup that took place solely over text. Each piece in the series relates to a specific sensation I physically felt upon reading each specific text, and justly burdens the text as its label.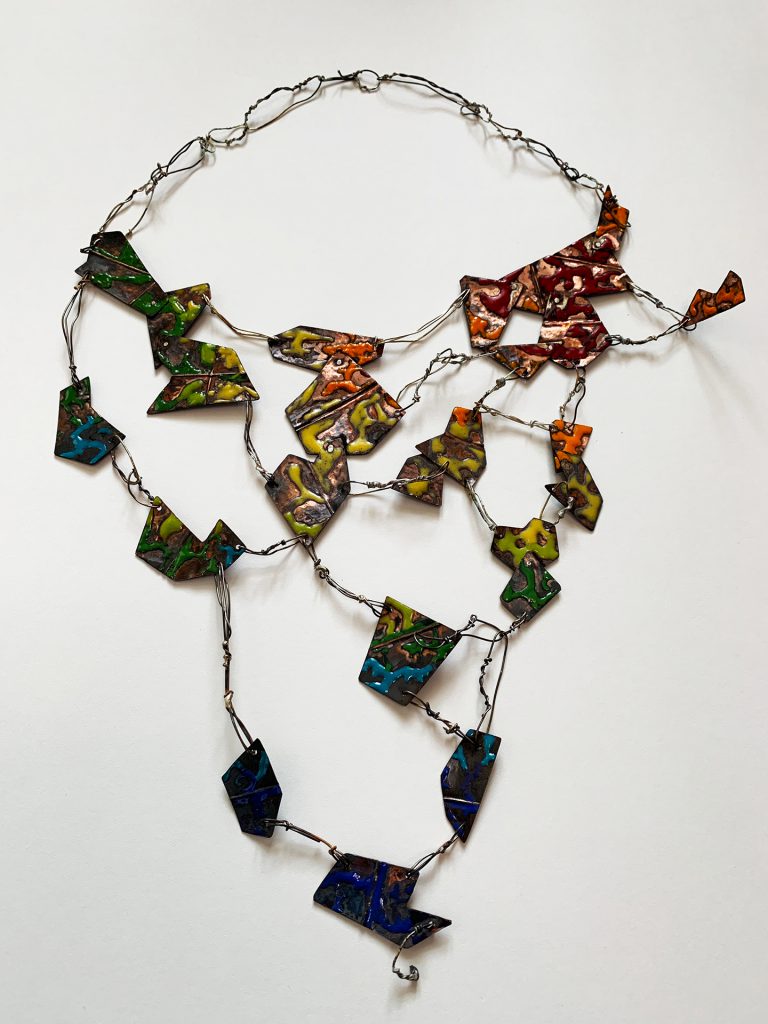 Katrina Brye
BFA Candidate

Reconstruction, 2019
Copper, sterling silver, enamel

Reconstruction represents the struggles of moving past mistreatment and abuse. It is a reflection on the timeline of recovery and a representation of how fractured pieces may become whole again but will never be the same.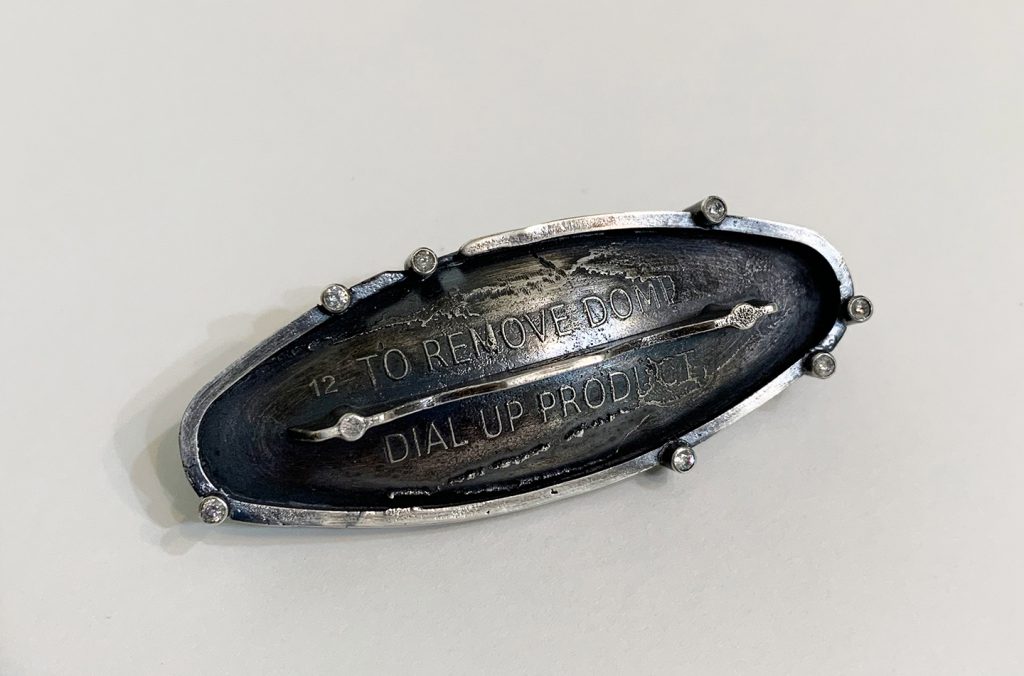 Ali Strangstalien
BFA Candidate

Secret, 2019
Sterling silver, cubic zirconia, steel

I aim to expose the contradictory nature of the high value that contemporary American society places upon the consumerism of cheap goods, as well as the harmful habits associated with this kind of consumerism.

Through my work, I explore the crisis of plastic pollution and how it relates to the wasteful habits that today's throwaway society has perpetuated.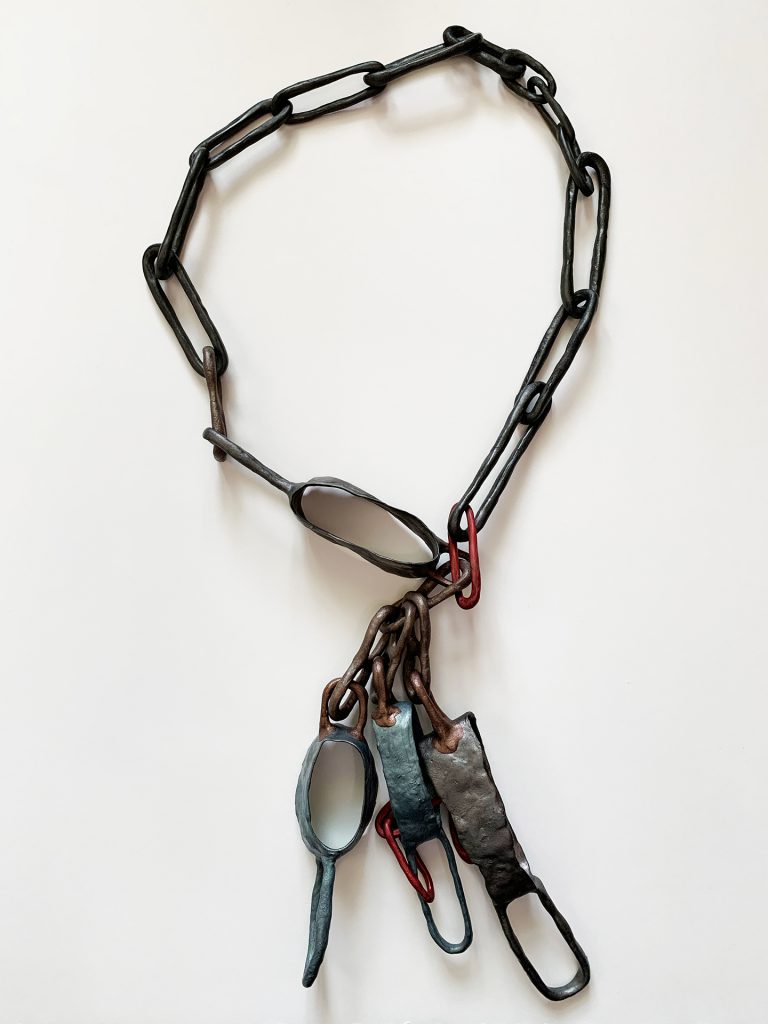 Steve Alexis
BFA Candidate

Propagate, 2019
Thermoplastic, mica

The handmade object is a vessel that holds a portion of the makers desire. Through wearable jewelry forms, these shed emotions are amplified in the connected form of the wearer and the object.